Early this season, Ohio State senior tailback Carlos Hyde said reaching 1,000 yards was "a big goal." He seems a lock to reach that goal against Indiana this week.
Hyde rumbled for 246 yards and four TDs in the Buckeyes' victory over Illinois on Saturday, the fifth running back to rush for 200 yards on Illinois this season. He now has 947 yards and 11 TDs this season -- impressive, considering he was suspended for the first three games for an off-field incident.
Week 12: Top RB performances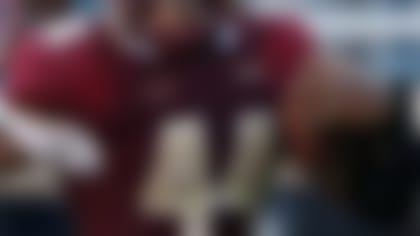 Boston College's Andre Williams racked up 339 yards Saturday, but it wasn't enough to earn the top spot on our list of the top 10 RB performances of the weekend. **More ...**
Saturday's performance was his fifth consecutive 100-yard game and the first 200-yard outing of his career; it lends credence to those who think he has a bright NFL future because of his running style. The general consensus seems to be that Hyde is one of the top three senior running backs in the nation and should be drafted somewhere between the second and fourth rounds.
If Hyde gets to 1,000 yards, he will become the first running back under Urban Meyer to reach that plateau. Meyer prefers a run-heavy version of the spread, but the only one of his players to rush for 1,000 yards is Ohio State quarterback Braxton Miller, who had 1,271 yards last season.
Hyde (6-0, 235 pounds) is built like a fullback, but he has deceptive speed and can turn the corner. Still, he is at his best running between the tackles. He rushed for 970 yards and 16 TDs last season despite missing two games with a minor knee injury. He has shown he can handle a heavy workload, with at least 24 carries in three of the past five games and at least 22 in seven of his past 14, but his receiving ability is a question, although he did have a TD reception against Illinois.
Mike Huguenin can be reached at mike.huguenin@nfl.com. You also can follow him on Twitter @MikeHuguenin.