Ohio State's offense this season is the most prolific in school history, but coach Urban Meyer said it's the Buckeyes' defense that will be the key Saturday against Michigan State in the Big Ten championship game.
During his weekly Monday news conference, Meyer said that if Ohio State's defense isn't better than it was last week against Michigan, "we won't win the game."
Ohio State was shredded to the tune of 603 yards by Michigan, but still was able to edge the Wolverines, 42-41, because the Buckeyes' offense put up 526 yards of its own. The pass defense was egregiously bad against Michigan, with Devin Gardner throwing for 451 yards.
Meyer said there were numerous defensive problems against the Wolverines, with the issues against the pass most alarming.
"I trust these guys will be locked and loaded and we'll have a good week of preparation," he said.
The pass defense has been a problem all season. The Buckeyes are tied for 10th in the Big Ten and for 101st nationally in pass defense, allowing 255.8 passing yards per game. The secondary was expected to be a team strength, but it hasn't turned out that way. The Buckeyes allowed four teams to throw for at least 300 yards, and two others threw for at least 288.
In its past three games, Ohio State has allowed Illinois, Indiana and Michigan to average 353 yards passing, with eight TDs, two picks and a 64.7 completion percentage.
The safety tandem of seniors C.J. Barnett and Corey "Pitt" Brown has struggled in coverage, and the Buckeyes have missed senior Christian Bryant, who suffered a season-ending injury Sept. 28 vs. Wisconsin. Junior corner Doran Grant and true freshman nickel back Tyvis Powell have had their moments -- Powell had the game-clinching interception of Michigan's two-point conversion attempt -- but also have had breakdowns.
There is some good news for the Buckeyes in terms of their pass defense, though: Michigan State is No. 11 in the Big Ten in passing offense, and the Spartans definitely prefer a run-first attack. To expect conservative Spartans coach Mark Dantonio to shift his offensive focus to try to take advantage of the Buckeyes' secondary -- it's not going to happen.
Ohio State has the best pass rush in the Big Ten, with 39 sacks. Junior outside linebacker Ryan Shazier and junior defensive tackle Michael Bennett are tied for the team lead with seven sacks, and defensive ends Noah Spence, Joey Bosa and Adolphus Washington can get to the quarterback, as well.
Week 14: Things we learned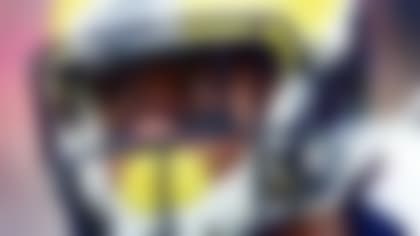 From Jeremy Gallon helping to revive Michigan's offense vs. Ohio State to David Fales outdueling Derek Carr, here are the lessons we learned in Week 14 of college football. More ...
Michigan State has allowed a league-low 12 sacks, but redshirt freshman left tackle Jack Conklin and senior right tackle Fou Fonoti can be exploited by speed rushers, so expect to see Shazier switching sides in order to get the best matchup.
"To reach the level Ohio State expects, we have to play better on defense," Meyer said.
Meyer also said Ohio State athletic officials had been in contact with the Big Ten office about the ejections of Buckeyes guard Marcus Hall and wide receiver/tailback Dontre Wilson from the Michigan game after a fight. The Big Ten issued a public reprimand of both players but didn't suspend them. Meyer said Sunday he was not suspending them.
Mike Huguenin can be reached at mike.huguenin@nfl.com. You also can follow him on Twitter @MikeHuguenin.