The Giants picking a quarterback seems far-fetched, but New York Post columnist Bart Hubbuch wrote that it might be hard for the team to pass on Louisville's Teddy Bridgewater should they have the No. 1 pick.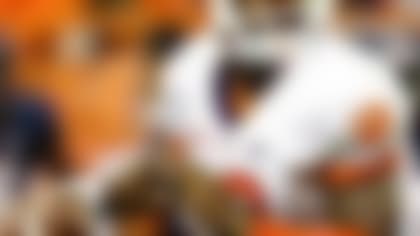 Scouts believe there could be record number of quarterbacks taken in first round of 2014 NFL Draft, leaving famed 1983 draft class in the dust. **More ...**
The Giants being bad enough to "earn" the No. 1 pick seems unlikely -- the Jacksonville Jaguars, for one, seem far worse than the Giants. Far, far, far worse. And we're only entering Week 6 of the season. There's still plenty of time for Big Blue to improve.
But Hubbuch quoted a NFC general manager who is extremely high on Bridgewater and said, "Any team in the top five would take a very long look at him, even if they've got a franchise [quarterback] already."
Bridgewater is a junior and has not said if he is going to leave early, but Hubbuch noted that it was seen as a foregone conclusion among NFL observers. "Bridgewater's the best of the whole group," NFL Media draft analyst Gil Brandt told Hubbuch, meaning the best player in the entire draft and not just among the quarterbacks.
Louisville coach Charlie Strong often has praised Bridgewater's focus and dedication, and an NFC scout told Hubbuch, "You can tell by the way [Bridgewater] plays that he lives in the film room. He understands defenses, doesn't lock into one [receiver] and has good downfield vision."
The Giants have lost 10 of their past 13 games, and Manning has thrown 12 picks in a 0-5 start to this season. But is he the team's biggest problem?
The pass rush, long a team strength, has disappeared. The Giants have five sacks, which ranks 31st in the league. Only Pittsburgh has fewer.
The offensive line has fallen apart. Footballoutsiders.com ranks the Giants' line 31st in the league when it comes to pass protection.
And there's no clear-cut feature back. Coach Tom Coughlin obviously doesn't trust David Wilson, and the Giants are last in the league in rushing, at 56.8 yards per game.
Manning's current contract, which was signed in August 2009, runs through the 2015 season, when his annual salary will be $17 million. His cap numbers for the next three years have been reported to be $20.85 million this season, $20.4 million in 2014 and $19.75 million in '15.
Manning obviously is pressing, knowing that because of the poor defense, the Giants have to win shootouts. Still, quarterback seems far down on the list of draft priorities. Would the Giants really draft a quarterback and expect him to win with the surrounding talent that is on hand? Manning can't do it, and he has won two Super Bowls.
Mike Huguenin can be reached at mike.huguenin@nfl.com. You also can follow him on Twitter @MikeHuguenin.