One of the best interior offensive linemen in the nation could miss the rest of the season.
Nebraska senior guard Spencer Long was injured in the first quarter of Saturday's rout of Purdue, and though there is no official word, numerous media outlets in Nebraska -- including the Omaha World-Herald, Lincoln Journal Star and huskeronline.com -- have reported that Long potentially could miss the rest of the season with a knee injury.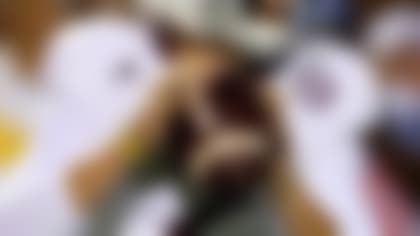 From Johnny Manziel's heroics in a thriller at Ole Miss to Marcus Mariota's dismantling of Washington, here are 37 things we learned from the college football weekend. More ...
Long was seen as a potential second-round pick; the severity of the knee injury obviously will determine his draft status going forward. If it is a torn ACL, Long potentially could fall to the end of the draft.
Long (6-foot-4, 315 pounds) was a first-team All-Big Ten selection last season. A former walk-on, he didn't play at all in his first two seasons on campus but had started every game since the beginning of the 2011 season. Long is known as a physical, aggressive run blocker who is a good technician. While he sometimes struggled in space, he was quite effective at getting to the second level on runs between the tackles.
Nebraska is off this week, then plays at Minnesota on Oct. 26 to begin a stretch of six games in six weeks to close out the regular season.
Junior Mike Moudy (6-5, 300) will take over Long's starting spot, but depth and talent now are an issue. There is no way to adequately replace Long, who might have been the best guard in the Big Ten. Sophomores Givens Price (6-4, 295) and Ryne Reeves (6-3, 295) now are in line for far more playing time. Reeves is considered a little further along than Price.
"Going into this thing, I thought the bye week was a bad deal, having two bye weeks almost back-to-back, but this is a critical time that we have it," Huskers offensive line coach John Garrison told the Journal Star. "There's been guys in the rotation ready to go, but [we need] to really solidify it."
Mike Huguenin can be reached at mike.huguenin@nfl.com. You also can follow him on Twitter @MikeHuguenin.