Nebraska junior tailback Ameer Abdullah leads the Big Ten and is sixth nationally in rushing, but he reiterated Monday that he hasn't thought about leaving early for the NFL.
When asked during a news conference whether Friday's regular-season finale against Iowa could be his final home game, Abdullah said, "I really haven't given it much thought. To me, that's a really big jump."
Abdullah (5-foot-9, 190 pounds) is averaging 134.8 yards per game overall and 145.4 yards in Big Ten games.
His overall total is almost 10 yards per game more than Wisconsin sophomore Melvin Gordon, who is second in the league in rushing. The two are friends from their time on the high school all-star game and camp circuit, and Abdullah said they have exchanged good-natured texts about winning the Big Ten rushing crown.
"Wisconsin has a really good backfield," Abdullah said. " ... Any week it could be [Gordon] or James White getting the load. It just so happens the last three or four weeks it's been James White. But Melvin, he is having a good year and will continue to work hard and so will James White. But Melvin is one of my best friends and we talk all the time, so hopefully I can get him."
Abdullah is on pace to have the best season by a Nebraska running back since Ahman Green in 1997 (1,877 yards).
Abdullah could have tough sledding against Iowa. The Hawkeyes are fifth in the Big Ten in rush defense (123.6 yards per game) and have allowed just four rushing TDs, tied for fewest in the nation with Florida State.
Week 13: Top RB performances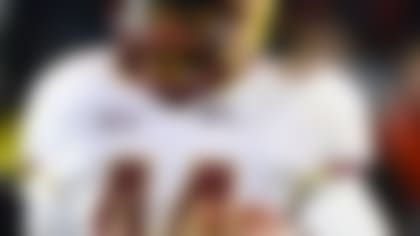 Boston College's Andre Williams had his lowest rushing output in three games, but he still led the way on our list of the top 10 RB performances of Week 13. More ...
"They just swarm to the ball," Abdullah said. "They never just make one-on-one tackles. They make gang tackles."
The game is important in terms of Big Ten bowl pecking order. Nebraska (8-3) is aiming for its sixth consecutive nine-win season; only four schools have won at least nine in each of the past five seasons (Alabama, Boise State and Oregon are the others). Iowa (7-4) would move itself into consideration for a New Year's Day bowl in Florida with a win. The Hawkeyes' four losses have come to teams that are a combined 42-3 (Northern Illinois, Ohio State, Michigan State and Wisconsin).
Mike Huguenin can be reached at mike.huguenin@nfl.com. You also can follow him on Twitter @MikeHuguenin.