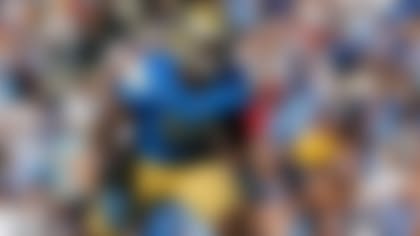 NFL scouts are always looking to the college ranks to find next-level talent, and while it's too early to speculate about which linebackers will thrive in the NFL, these 10 certainly have the attention of evaluators heading into the 2015 season.
This is not a list previewing the 2016 NFL Draft, but a look at college linebackers that are already generating interest from NFL scouts. Here are 10 to watch in 2015.
At times, it seems that UCLA is so excited about Jack's immense talent that it hasn't been able to allow Jack to truly focus since he has played running back, safety, rush 'backer, inside 'backer and even over slot receivers. Yes, Jack is that talented and that athletic, featuring elite explosiveness and twitch. When Jack comes downhill, he's coming with bad intentions, exploding through the ball carrier, quarterback or receiver. It is not a stretch to say that Jack could play running back, safety, inside or outside linebacker and excel at whichever position he chose. While Jack doesn't have many sacks to his name, I think he could be an effective rusher in the pros.
2. Jaylon Smith, Notre Dame
The decision between Myles Jack and Smith was a very difficult one. Smith has absolutely blazing closing speed and can chase and corral his running backs from almost any spot on the field. He's in the same league as Jack from an explosiveness standpoint and can unlatch from blocks to pounce on runners like a puma. Smith looks like a better version of 2015 first-round pick Shaq Thompson on tape and Smith plays way stronger at the point of attack than I expected.
3. Scooby Wright III, Arizona
The champ is here! When it comes to productivity, nobody in college football touches Wright, who won the triple crown of awards for college front-seven players -- Bronko Nagurski, Lombardi and Chuck Bednarik -- last season. Wright finished 2014 with 163 tackles, 27 tackles for loss and 15 sacks thanks to a defense that allowed him to unleash his natural, attacking field demeanor. While Wright isn't the most athletic linebacker you'll see, he more than makes up for it with his elite instincts and quickness to beat blockers to the spot. Wright is incredibly decisive and generally reliable as a tackler. Posting these numbers as a sophomore is no accident. His junior year should be more of the same.
4. Reggie Ragland, Alabama
Ragland is a prototype Alabama-style linebacker who is big and will hit. He has better sideline-to-sideline speed than some might expect and his field coverage will have some scouts excited. Ragland finished 2014 with 95 tackles, including a tackle every 7.7 snaps. He is a heavy tackler who will come downhill and look to stuff the run before the play can even get off the ground. While Ragland is a true "take-on" linebacker willing to leverage his gap and put a shoulder into oncoming offensive linemen, he still needs improvement in pass coverage. Ragland's special-teams work is also a big plus in the eyes of NFL scouts.
5. Darron Lee, Ohio State
Big-time "dude" on the field with a wide receiver's fluidity and outstanding playmaking ability. Lee has outstanding speed to track down runners looking to turn corners and he takes smart angles to the ball. As a pass rusher, he posted 19 pressures and 7.5 sacks and his nose for the ball led him to a couple of interceptions and fumble recoveries. Oh, I almost forgot -- he was a redshirt freshman last season. One area that won't get much attention but deserves it is his ability to cover in space against the pass. On a defense that has three linebackers capable of competing for All-Big Ten honors, Lee's overall athleticism, playmaking and football IQ stand out.
6. Antonio Morrison, Florida
Morrison loves to tackle and is pretty good at it, as well. Morrison finished with 101 tackles last season, but what really stands out is his form and ability to finish as a tackler. Morrison had just five missed and broken tackles combined, which is an incredible number considering his tackle rate of one tackle every 6.5 snaps. He is willing to hit any lineman or fullback who dares to challenge him in the hole and his bouncy feet help him follow running backs from gap to gap. Morrison has the demeanor, body type and athleticism to be an NFL starter, but the knee injury he suffered at the end of last season is a big concern.
7. Raekwon McMillan, Ohio State
With the attention that will be heaped on the Buckeyes this season, it is inevitable that this sophomore middle linebacker will get noticed and praised throughout the year. McMillan played with instincts and discipline for the better part of his freshman season. He's a see-it, hit-it linebacker who keeps his eyes on his target and brings his pads with a heavy thud. McMillan finished last season with 54 tackles while playing just 44.3 percent of the snaps. This season, he's the main man in the middle and will likely hit the 100-tackle mark. He's not as fast as some of the others on this list, but he's always around the ball.
8. Jalen Reeves-Maybin, Tennessee
While studying teammate A.J. Johnson for the 2015 draft, my eyes kept being drawn to No. 34 as he looked more like an NFL prospect than Johnson. Reeves-Maybin is a little smaller than teams would like, but he's very good at sifting and sorting through the traffic and coming out on the other side for the tackles. He's not a take-on linebacker and must be proficient and diligent with his hands to keep himself clean. He needs to have his tackles for losses exceed his missed and broken tackles this season. Reeves-Maybin can cover and blitz, which makes him an every-down linebacker on this level and the next.
After a 2013 season that saw him play a true safety spot, the Trojans moved Cravens to a hybrid safety-linebacker spot, and the role suited him well. Cravens has average play speed for a player his size, but shows above-average physicality and aggressiveness when he's coming downhill after the running game. Cravens logged 5 sacks in 2014, but isn't a natural pass rusher. However, his instincts helped lead him to 17 tackles for losses and 7 interceptions over the last two seasons. Those interceptions weren't flukes -- he made really good plays on every one of them. Instincts and toughness are what this position is all about and Cravens has both. Look for him to make a run at an All-American spot in 2015.
10. Eric Striker, Oklahoma
When I look at Striker as a future NFL prospect, it is obvious that his frame isn't big enough to hold up as an NFL linebacker and that he might have to transition to safety. However, as a college linebacker, he is absolutely one to watch this year. Speed is the obvious friend of Striker, who was simply too fast around the edge at times for offensive tackles en route to 9 sacks and 17 tackles for loss in 2014. I'm interested to see if defensive coordinator Mike Stoops moves Striker around more this season in order to make his positioning on the field even less predictable.
Ed Davis, Michigan State: Davis is a versatile linebacker who can play inside, rush from off the edge, blitz and cover ground in space. He's a great team player who is willing to maintain his run fits and stuff the gaps in order to spill runs outside. Those plays don't show up on stat sheets, but coaches love them.
Blake Martinez, Stanford: Martinez was all over the place for the Cardinal last season, making 102 tackles, 4.5 sacks and three interceptions. He's an average athlete, but finds himself around the ball making plays all the time.
Jared Norris, Utah: He's built like an old-school electric football player and he has the same motor. Norris is a proactive, attacking linebacker who plays downhill and will handle the dirty work for the Utes. While he lacks coverage ability, he's rarely out of position against the run and plays with urgency at all times.