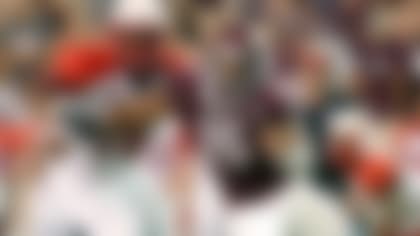 NFL scouts are always looking to the college ranks to find next-level talent, and while it's too early to speculate about which edge defenders will thrive in the NFL, these 10 certainly have the attention of evaluators heading into the 2015 season.
This is not a list previewing the 2016 NFL Draft, but a look at college edge defenders that are already generating interest from NFL scouts. Here are 10 to watch in 2015.
1. Myles Garrett, Texas A&M
Von Miller is back at Texas A&M and wearing the No. 15 jersey with the name "Garrett" on the back. Actually, that "Garrett" belongs to Myles Garrett, who finished his freshman season with 11.5 sacks while taking on quality tackles in the process. Garrett might already be the best pure edge rusher in the country thanks to his upfield burst and destructive inside move. Garrett has cat-quick change of direction to keep him in more plays than the norm and he's surprisingly difficult to redirect once he starts to turn the corner in his pass rush. He can still be pushed around a bit at the point of attack, but his frame should fill out as he gets older.
Bosa is one of the most high-profile performers in the nation on the defensive side of the ball, and after racking up 13.5 sacks last season for the eventual national champs, it's no surprise that he receives so much attention. Bosa is a well-proportioned end who can play with good edge-setting strength or with a degree of slipperyness to slide off of blocks and make plays. Few ends play with as much defensive awareness as Bosa or with the level of coordination he has between his hands and feet. One thing to watch, however, is whether or not Bosa can improve his edge burst, as that will be extremely critical for NFL success.
You will hear the term "overrated" lobbed at Oakman more than you might expect this year, and that is because his play doesn't currently match his outrageous physique (6-foot-9, 280 pounds), but that criticism isn't fair, in my opinion. Oakman is very raw as a pass rusher. He doesn't use his hands properly and doesn't have edge speed or even a go-to pass rush move. However, he does have incredible length and the type of natural power that allows him to generate a bull rush on most snaps. If he learns to use those hands, he will show immense improvement.
4. Jordan Jenkins, Georgia
When I turned the tape on, it didn't take very long to see how much Jenkins loves to play football. The senior end had five sacks last season, which won't excite the box-score scouts, but he wasn't counted on as an edge rusher. He played the role of a heads-up rusher who had to win with great hand usage, upper-body explosiveness and determination. Jenkins plays with a great motor, as evidenced by his 70 tackles, and he is one of the better stack-and-shed edge prospects in college football. I would love to see him get a chance to come off the edge more this season to see what he can do.
5. Leonard Floyd, Georgia
Floyd is a freakish athlete capable of triggering false starts from tackles who are worried about his upfield burst off the snap. He's a long-levered edge rusher who can get his hands on tackles first and create leverage for himself as he bends around the corner. He has a terrific closing burst to the ball and has the potential to take a huge step forward this season in terms of his pass-rush game. Floyd could use more play strength, but his ability to rush the passer and drop in coverage is first rate.
6. Shilique Calhoun, Michigan State
Calhoun is listed at 6-5, but appears to be even taller thanks to his long arms. Calhoun has two first-team All-Big Ten selections to his credit and should secure a third this season. He plays with good arm extension in setting the edge against the run and has the lateral quickness to shut down running lanes quickly. Calhoun's burst to the ball is a big advantage, but he needs to learn to get to the offensive tackle's edge to become a more consistent finisher as a pass rusher.
7. Kyler Fackrell, Utah State
Premium size and athleticism made Fackrell a standout in 2013, but a torn ACL in the season opener in 2014 put Fackrell's draft status in limbo. The 2013 tape shows a long-levered gazelle who could run and chase like a future early round pick. Fackrell's smoothness in space and closing burst was undeniable. Scouts will be watching Fackrell throughout the season to see how he progresses and whether he was able to maintain his explosiveness. Fackrell could project to either the strong or weak-side outside 'backer spot in a 3-4.
8. Derek Barnett, Tennessee
Barnett exploded onto the scene as a freshman last season, finishing with 10 sacks and 20.5 tackles for loss. Barnett plays with jarring power at the point of attack and can push people around when he's focused. As a pass rusher, he's best-suited as a bull rusher, but did show improved hand usage and a potentially dangerous shoulder dip around the corner as the season went on. While Barnett lacks the explosive burst upfield that some covet, his power and potential make him a potential rising star in his sophomore season.
9. Marquis Haynes, Ole Miss
Haynes was very impressive as a freshman, logging 7.5 sacks as a pass-rush specialist, but at this point in his development, he has the body type of a strong safety rather than an edge rusher. Haynes is expected to get substantially more snaps this season, which is bad news for opposing tackles since his per-snap numbers for sacks and pressures were eerily similar to Myles Garrett's. Haynes needs to add an inside counter and improve his play strength.
10. Dadi Nicolas, Virginia Tech
He will be a polarizing prospect before the draft. Nicolas has very good upfield burst and his long, easy strides mean he can close on a quarterback quickly. When he gets a running start on a twist, he can be extremely difficult for an interior lineman to pick up on time. So, what is the problem? He's very thin through his lower body and plays with a high pad level. When you add that combo together, you get a player with zero play strength. Nicolas is tossed around by quality tackles on far too many plays. He has traits teams will love, but development of strength and his pass-rush skills are essential this season.
Emmanuel Ogbah, Oklahoma State: His 2014 sack total was impressive (11), but tape shows a high percentage of the sacks came on extended plays or easy closeouts. Ogbah looks like a "dude" on the hoof. Translation -- he is a very impressive physical specimen when you first see him in person. However, Ogbah needs to match his size and strength at the point of attack with more consistent effort and a greater sense of urgency to get off of blocks.
Devonte Fields, Louisville: Selected as Big 12 Defensive Player of the Year in 2012, Fields had an injury-plagued 2013 for TCU and an unimpressive season on the JUCO level in 2014. He was dismissed from TCU before last season following allegations that he assaulted his ex-girlfriend. He reached an agreement earlier this month to have a misdemeanor charge stemming from the incident dismissed. Fields' 2012 season won't mean much to NFL scouts unless he shows that same form as a JUCO transfer at Louisville this season.
Ken Ekanem, Virginia Tech: While teammate Dadi Nicolas plays with quickness but lacks strength, Ekanem is the opposite with more pop behind his pads but average athleticism. Ekanem has good awareness on the field and can keep himself in plenty of plays, but needs to present himself as a more consistently dangerous edge rusher this year when called on.
Hunter Dimick, Utah: Dimick is a hard worker with pretty good change of direction to turn and chase quarterbacks who try to wander outside of the pocket. He has average burst up the field and needs to add more pass-rushing moves to his repertoire. Teams are likely to look at Dimick as a strong-side outside linebacker in a 3-4.
Noah Spence, Eastern Kentucky: Spence is a former Ohio State Buckeye with size and athleticism to match. However, he's playing at Eastern Kentucky after being ruled permanently ineligible by the Big Ten due to off-field problems. Spence was arrested and charged with public intoxication and second-degree disorderly conduct in May. Spence has to flash talent on the tape, but off-field concerns could make the tape irrelevant if he doesn't mature.