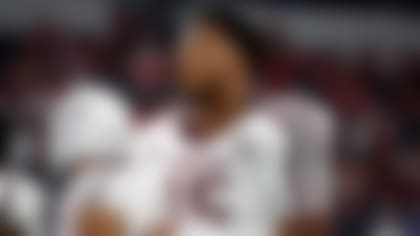 Myles Garrett, sophomore, Texas A&M: After a standout true freshman season in 2014 (second-team All-SEC with 14 tackles for loss, 11.5 sacks), Garrett is not letting up in Year 2. He had 7.5 sacks in the first 5 games of the year, using his length and motor to affect nearly every play. The Aggies hope Garrett steps up his game against Alabama's young left tackle, Cam Robinson, in a major SEC showdown this weekend.
Emmanuel Ogbah, junior, Oklahoma State: The junior stepped up big when necessary in the team's overtime win in Morgantown on Saturday, setting a season high with eight stops, inluding two assisted stops behind the line of scrimmage. He's now tied for third in the FBS with 10 tackles for loss, and tied for fifth with 6.5 sacks. Bet on him to keep Cowboying up as the team chases TCU and Baylor for a Big 12 crown.
Andrew Billings, junior, Baylor: A consensus first-team All-Big 12 selection as a sophomore, Billings continues to clog the middle and bring valuable interior pressure. He has 15 tackles, five for loss, in five games despite not needing to even suit up for the second half in most games because the Bears have built up huge leads.
Sheldon Day, senior, Notre Dame: Few defensive tackles lead their teams in tackles on a given Saturday, but Day did just that against Navy last week. He already has eight tackles for loss, more than the 7.5 he accumulated as a junior. It's possible that the Irish lost their chance at a playoff berth with a loss to Clemson a couple of weeks ago, but Day's play will keep them in the conversation.
Su'a Cravens, junior, USC: As a hybrid safety/linebacker in the Trojans' defense in 2014, Cravens was selected third-team All-America by The Associated Press and first team All-Pac-12. Through five games, he has or shares the team lead in tackles for loss, sacks, interceptions, pass breakups, and forced fumbles. Comparing anyone to Troy Polamulu sets the player up for failure, but it's tough not to think of the former Trojan when watching Cravens' playmaking ability.
Antonio Morrison, senior, Florida: This senior is the undisputed leader of the unbeaten Gators' defense. His 16-tackle (five solo, 3.5 for loss) effort against Ole Miss helped Florida take down the Rebels, which put UFC in the driver's seat in the SEC East. Morrison led his team in tackles last season with 101, garnering second-team All-SEC recognition, so it's no surprise he's all over the field again in his final collegiate season.
Jaylon Smith, junior, Notre Dame: Smith once again leads the Irish in stops at the halfway point of the season, averaging seven per contest. The 2014 Butkus Award finalist (and high school Butkus Award winner) makes plays behind the line (5.5 tackles for loss), in coverage (three pass breakups) and everywhere in-between.
Vernon Hargreaves III, junior, Florida: He's on his way to receiving All-America recognition for a third straight year. Hargreaves continues to force turnovers for the Gators (tied for 10th nationally with three interceptions this year), and he changes field position for the team in the process (132 yards on interception returns). Florida needs Hargreaves and Morrison to continue to be playmakers on defense if it is to overcome the loss of quarterback Will Grier to suspension.
Jalen Ramsey, junior, Florida State:Ramsey was the first Seminole freshman to start at cornerback in a season opener since Deion Sanders in 1985 -- and he hasn't stopped making headlines. His five pass breakups lead the team, and the ACC long-jump champion (indoor and outdoor) made one of the biggest plays of the season when he recovered a fumble and took it in for a score against Boston College to keep Florida State undefeated.
Jeremy Cash, senior, Duke: The former Buckeye is once again filling the stat sheet for the Blue Devils, leading the team with 11.5 tackles for loss and three forced fumbles in just six contests. As a safety/linebacker hybrid, Cash isn't making as many plays in the secondary (no interceptions, two pass breakups) this year, but don't worry -- he will be a factor in the pass defense as the ACC conference slate unfolds.
Karl Joseph, senior, West Virginia: Even though a knee injury ended Joseph's senior season after four games, I couldn't leave him off this list. He led the FBS with five interceptions in the first month of the year, and averaged five tackles per game. But he's best known for his fearless hitting, whether over the middle or on the sideline. The Mountaineers will miss his presence, even if opposing receivers won't.