Michigan offensive tackle Taylor Lewan surprised more than a few observers by returning to Michigan for his senior season. He was seen as a likely first-rounder in the 2013 draft, and speculation was that Lewan returned to cement himself as a top-10 pick.
Week 14: Things we learned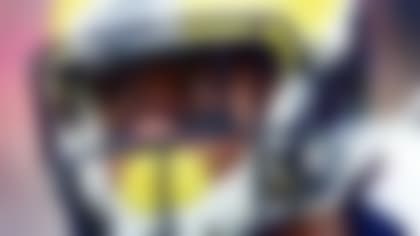 From Jeremy Gallon helping to revive Michigan's offense vs. Ohio State to David Fales outdueling Derek Carr, here are the lessons we learned in Week 14 of college football. More ...
The season hasn't necessarily gone as Lewan expected. Michigan struggled to a 7-5 regular-season finish, and the offense was the problem -- specifically, an inability to run. The offensive interior was a mess, to be sure, but Lewan can't escape some of the blame for the poor rushing numbers.
Still, the Detroit Free Press reported in late October that Lewan -- known for his physical, aggressive play -- was grading out as the top offensive lineman in Michigan line coach Darrell Funk's 17-year career and was grading out more than five percent higher than he did last season.
NFL Media reporter Albert Breer wrote Friday that Lewan's play against Ohio State could end up being "vital" for his future. Breer said one AFC scout he talked to thought Lewan still was a first-rounder, but an NFC scout said he could see Lewan going in the third round.
Lewan (6-foot-8, 315 pounds) and Michigan's offense played its best game of the season, considering the opponent. The Wolverines rolled up 603 yards of offense, including 152 on the ground. Lewan showed off his athleticism at times, getting to the second level and mowing down Ohio State's linebackers.
Michigan quarterback Devin Gardner was sacked three times, but those can somewhat be blamed on Gardner for not getting rid of the ball.
Mike Huguenin can be reached at mike.huguenin@nfl.com. You also can follow him on Twitter @MikeHuguenin.