Finally. Football that counts.
The National Football League regular season doesn't start until next week, but college football is here to fill the void.
College Football Predictions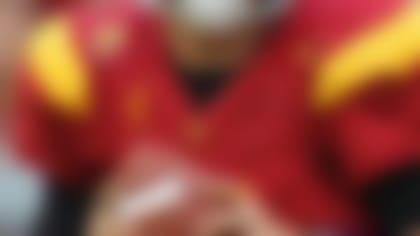 How will Matt Barkley's USC Trojans fare in 2012? NFL.com's analysts share their predictions for the college season. **More ...**
And while season-opening football brings great joy to fans of the game, it also begins the evaluation process for NFL general managers and scouts already focused on improving their teams for 2013 and beyond.
Because many high-profile college programs face Football Championship Subdivision or lower-tier Football Bowl Subdivision programs in their pre-conference slate, there are fewer great scouting matchups where NFL personnel staffs can see prospect-on-prospect action. But the following 10 games will draw scouts to stadiums across the country -- or at least get them to sit in front of a television, just like the rest of us -- as some of the top talents in college football prove their mettle.
Miami (Ohio) at Ohio State
Saturday, 12 p.m. ET, Big Ten Network
Miami senior QB Zac Dysert isn't quite as big or strong-armed as former RedHawk Ben Roethlisberger, but he has plenty of size (6-4, 228), and his ability to make accurate throws on the run makes him one of more intriguing passers in the draft class.
The Buckeyes are looking to start off strong this season under new coach Urban Meyer, with hustling and athletic edge defenders John Simon and Nathan Williams (who will still be limited from last year's knee injury) and trimmed-down junior Johnathan Hankins (now a svelte 317 pounds) ready to bring the heat. Miami probably won't come out as the victors, but an efficient and poised showing by Dysert would be a good first step toward a top-50 draft grade.
Jeremiah: Top 12 games of 2012
There are must-see games every week of the college season, but Daniel Jeremiah has picked 12 that stand out. **More ...**
Clemson vs. Auburn (Georgia Dome, Atlanta)
Saturday, 7 p.m. ET, ESPN
This battle of Tigers pits two small but speedy backs trying to prove themselves. Clemson RB Andre Ellington is a highly ranked prospect and will get plenty of opportunities to make plays using his breakaway speed in this game. Auburn's 170-pound Onterio McCalebb is an elusive back, but must show scouts he can carry the ball 15-20 times (something he's done only twice in three years) before they give him a mid-round grade. Clemson's next NFL-sized defensive end prospect, the 6-4, 280-pound Malliciah Goodman, will do his best to slow down McCalebb, but Auburn senior guard John Sullen might pull in Goodman's direction to neutralize him.
The first game of Michigan QB Denard Robinson's senior year will be telling: Can he step up his game to be an accurate pocket passer, like Robert Griffin III against TCU last season? Or will Alabama's defense, masterminded by Nick Saban, sufficiently confuse him and create turnovers? Saban likely will try to keep Robinson in the pocket -- the Heisman candidate is one of the country's most dangerous runners -- so Robinson will get his chances to prove those who doubt he can be an NFL quarterback.
The battle in front of Robinson is also intriguing. Wolverines junior left tackle Taylor Lewan is one of the best linemen in the country, and he'll be facing a slew of talented Crimson Tide defensive ends (including seniors Quinton Dial and Damion Square) and young linebackers coming off the edge. Right guard Patrick Omameh will need all of his substantial power to hold off the strength and hustle of nose tackle Jesse Williams, as well as the quickness to cut off run-stopper Nico Johnson and blitzing underclassman C.J. Mosley.
SMU at Baylor
Sunday, 6:30 p.m. ET, FSN
Watch out for the Mustangs in 2012 if running back Zach Line is healthy enough to fully utilize his vision and quick cuts, and if Texas transfer quarterback Garrett Gilbert has his timing down with senior receiver Darius Johnson in head coach June Jones' spread attack.
If Baylor can't stop SMU consistently, the Bears will have to outscore them. Senior quarterback Nick Florence has big shoes to fill after the departure of Heisman winner RG3, but he has vertical threat Terrence Williams and a gaggle of young inside receivers to help him put up points this season. The Bears' offensive line is huge, but will have its hands full with Estonia native Margus Hunt (6-8, 280), who is a beast no matter where he lines up.
Brooks: Top 12 Heisman candidates
Who will follow in Robert Griffin III's footsteps? Bucky Brooks breaks down a dozen Heisman Trophy contenders. **More ...**
Elon at North Carolina
Saturday, 12:30 p.m. ET, ACC Network
Elon WR Aaron Mellette led the FCS with 113 receptions and 1,639 receiving yards last year using his NFL-caliber frame (listed at 6-4, 212 pounds) and strong hands. He could do well against UNC's young secondary (he had 11 catches and 180 yards vs. Vanderbilt in 2011), but Phoenix senior QB Thomas Wilson must first avoid DT Sylvester Williams, DE Kareem Martin and LB Kevin Reddick.
Eastern Kentucky at Purdue
Saturday, 3:30 p.m. ET, Big Ten Network
Colonels WR Tyrone Goard also has the size (listed at 6-4, 192) to be one of the three or four "small-school" receivers picked in the 2013 draft, but must first prove himself able to win battles against the likes of Purdue cornerback Josh Johnson.
Hawaii at USC
Saturday, 7:30 p.m. ET, Fox
Two years ago, Matt Barkley threw for 257 yards and five touchdowns in three quarters against Hawaii -- with plenty of handoffs in the second half. And he didn't have Marqise Lee. This should be a good start for his Heisman campaign.
Georgia Tech at Virginia Tech
Monday, 8 p.m. ET, ESPN
We know the Yellow Jackets will try their best to churn out yards on the ground against the Hokies' sturdy defense, but this could be the start of something special for VT's 6-6, 260-pound QB Logan Thomas.