Missouri defensive end Michael Sam told The New York Times and ESPN he is gay, and the 2014 NFL Draft prospect plans to become the first openly gay player in the NFL.
"I just want to make sure I could tell my story the way I want to tell it," Sam told The Times. "I just want to own my truth."
"I am an openly, proud gay man," Sam told ESPN.
"I understand how big this is," he said. "It's a big deal. No one has done this before. And it's kind of a nervous process, but I know what I want to be ... I want to be a football player in the NFL."
The 24-year-old Sam, who just completed his senior season at Missouri, was among the top pass rushers in the SEC last year with 10.5 regular-season sacks (he had another one in the Cotton Bowl), boosting his NFL draft stock despite his lack of size for the defensive end position (6-foot-2, 255 pounds).
The NFL released a statement in support of Sam on Sunday night: "We admire Michael Sam's honesty and courage. Michael is a football player. Any player with ability and determination can succeed in the NFL. We look forward to welcoming and supporting Michael Sam in 2014."
According to The Times, Sam first told Missouri teammates L'Damian Washington and Marvin Foster about his sexual orientation about a year ago, and announced it to the squad during a team-building exercise during the preseason last year. The University of Missouri official Twitter feed expressed support for Sam Sunday night.
"I'm not naive. I know this is a huge deal and I know how important this is," Sam said. "But my role as of right now is to train for the combine and play in the NFL."
NFL Media Insider Ian Rapoport received the following reaction from a club executive: "The league is in a better place to handle this now than a few years ago given the influx of younger GMs."
'Jerry Smith: A Football Life'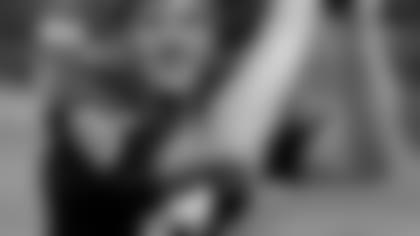 The life of gay Redskins tight end Jerry Smith will be chronicled when the special re-airs Wednesday at 9 p.m. and 12 a.m. ET.
Rapoport also spoke to an NFL scouting director who does not believe Sam's revelation will hurt his draft status, and that Sam projects as a late-round pick. NFL Media analyst Bucky Brooks agreed that Sam's draft status would not be affected, but Brooks projects Sam as a mid-round selection.
NFL Media's Aditi Kinkhabwala said another team's scouting director told her that he "knew for a while." When she asked if it had or would play in his evaluation, he emphatically said: "Not at all."
"In my eight years in draft rooms, the subject never came up. I would expect it would not have an impact on his draft status," Jeremiah said. "In my experience with every team I was with, it was all about putting the best 53 players on the field. I don't see why that would change here."
After the news broke on Sunday, Sam took to Twitter.
Due to his size, Sam is expected to be drafted by a club using a 3-4 defensive scheme and switched to outside linebacker, where his pass-rush skills can be best utilized. He played in the Reese's Senior Bowl last month and is among the Tigers' invitees to the NFL Scouting Combine in Indianapolis later this month.
Nine of his 10.5 sacks came during a trio of three-sack performances against Arkansas State, Vanderbilt and Florida. He also recorded an assisted sack while working against Texas A&M star left tackle Jake Matthews, who is expected to be a first-round draft choice.