For all of his success, there is one glaring flaw on the resume of Miami sophomore tailback Duke Johnson: In four career games against ranked teams, he has rushed for just 127 yards and one touchdown on 44 carries.
Miami plays at No. 3 Florida State on Saturday. Given that any success the Hurricanes have offensively is going to be predicated on Johnson (5-foot-9, 196 pounds) running effectively, he is going to be in the spotlight. And, thus, so will Florida State senior linebackers Christian Jones and Telvin Smith and junior defensive tackle Tim Jernigan. Those three, and their defensive teammates, need to make sure Johnson is kept bottled up.
Last season, Johnson ran for 19 yards on six carries against Kansas State, 22 yards on eight carries against Notre Dame and 27 yards on nine carries against FSU. This season, he had 59 yards and a TD on 21 carries against Florida, which was ranked when the teams met.
Week 9 top RB performances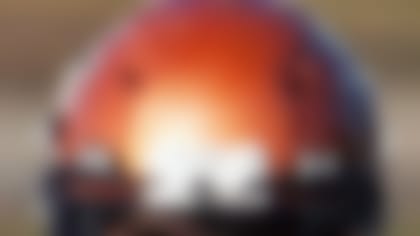 Western Connecticut State's Octavias McKoy set a new single-game rushing yardage record for all divisions. That was the highlight of a big day for running backs in Week 9. **More ...**
Overall, Johnson has rushed for 823 yards and six touchdowns this season, and the Hurricanes are averaging 214.7 rushing yards per game.
"The thing about (Johnson) is that he makes big plays," FSU coach Jimbo Fisher told reporters. "He's dynamic. He gets in space. He changes numbers on the scoreboard. He makes you miss."
FSU expects a heavy dose of the run Saturday.
"I'm pretty sure they're going to try and come out and run it down our throat," Jernigan told reporters.
Jernigan (6-2, 296) is one of the most talented defense tackles in the nation. He started just twice in his first two seasons, but still saw extensive action (75 tackles, 14 tackles for loss, four sacks). This season, as a full-time starter, he has 21 tackles, five tackles for loss and two sacks. He's both quick and strong, and moves extremely well laterally.
Because Jernigan frequently requires double-teams, his presence helps Jones and Smith, who don't have to fight through as many blockers.
Jones (6-4, 235) has 33 tackles, 4.5 tackles for loss and two sacks, and could see some time Saturday at defensive end. Jones is extremely athletic, but he's better against the run and as a pass rusher than he is in coverage.
Smith (6-3, 218) had been a backup on the inside for three seasons and is starting for the first time on the outside this fall; he leads the Seminoles with 49 tackles and five tackles for loss.
Boston College had success running the ball right at FSU and stayed in the game until the fourth quarter before falling 48-34. But since that Sept. 28 game, FSU's defense has clamped down; BC ran for 200 yards, and the next three opponents (Maryland, Clemson and North Carolina State) averaged 114.4 rushing yards and scored a total of 31 points.
"They've got a good offensive line and a good running back, so they're going to try to pound the ball on us, but we're going to be ready for it," Jones told reporters.
Mike Huguenin can be reached at mike.huguenin@nfl.com. You also can follow him on Twitter @MikeHuguenin.