Marshall senior tight end Gator Hoskins showed off his almost uncanny knack for finding the end zone in Friday's Military Bowl, and in the process, he helped the Thundering Herd beat Maryland, 31-20.
Ranking the bowl teams' prospects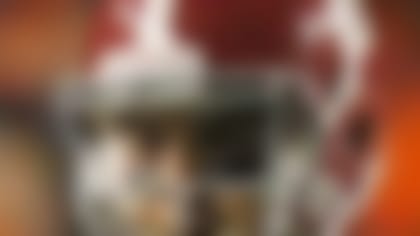 From Alabama all the way down to Navy, Bucky Brooks ranks every bowl team -- all 70 of them -- based on the quality of each team's top NFL draft prospects. More ...
It was the last game for the Terps (7-6) before they leave the ACC for the Big Ten. The Thundering Herd (10-4) won 10 games for the first time since 2002, when Byron Leftwich was their quarterback.
Hoskins (6-foot-2, 242 pounds) had six receptions for 104 yards and two touchdowns. That gives him 15 TDs on 50 receptions this season and 30 touchdowns on 99 career receptions; that means a bit better than 30 percent of his career receptions have resulted in scores.
Hoskins is a prime candidate to be converted to an H-back or even a pass-catching fullback in the NFL; he seems to be a potential third-day draft pick. Along with lining up at the normal tight end spot and at fullback this season, he spent time split wide and in the slot for the Herd. And he can get deep: He averaged 16.4 yards per catch on his 50 receptions this season.
Herd junior quarterback Rakeem Cato threw for 337 yards and three scores Friday; he finishes the season with 3,916 yards, 39 TDs and nine interceptions. While he will miss Hoskins next season, his favorite receiver, Tommy Shuler, will return. Shuler, who played with Cato in high school at Miami Central, had nine catches for 68 yards and a score against Maryland and finishes the season with 106 receptions and 10 TDs.
There will be more pressure on Cato next season because the Herd are losing six starters on offense and four more on defense.
Maryland, meanwhile, was a middle-of-the-pack team in the ACC next season and will probably struggle in its initial season in the Big Ten. The Terps have to get better on both lines, find a new quarterback and run the ball more effectively next season.
But one big positive for the Terps is that they may have the Big Ten's best receiving corps next season. They were without two starting receivers, Stefon Diggs and Deon Long, in the bowl game because of injuries, but that duo plus Levern Jacobs and Nigel King will be dangerous to Big Ten secondaries.
Mike Huguenin can be reached at mike.huguenin@nfl.com. You also can follow him on Twitter @MikeHuguenin.