LSU running back Jeremy Hill took to Twitter on Monday to declare his eligibility for the 2014 NFL Draft, a surprise move based on reports that Hill not only was leaning toward staying at the school, but had been working to convince LSU left tackle La'El Collins to stay as well.
Hill brings a great deal of talent, but a great deal of baggage as well, to the draft pool. He enjoyed a dominant season as a third-year sophomore, rushing 203 times for 1,401 yards and 16 touchdowns despite missing one game and part of another at the beginning of the season after being suspended for his second arrest. Hill recently completed terms of his first probation, which stemmed from a charge of unlawful carnal knowledge of an underage female. He was arrested again last spring after a cell phone video captured him sucker punching a bar patron from behind, and is scheduled to be on probation for that charge until July, 2015.
Underclassmen for 2014 draft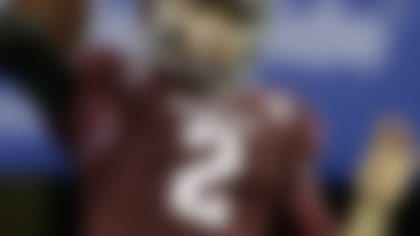 That means Hill, absent a judge's ruling to change his status, will be on probation for his entire rookie season in the NFL.
LSU already has lost two defensive tackles (Anthony Johnson, Ego Ferguson) and reportedly two wide receivers (Jarvis Landry, Odell Beckham) to early NFL draft entry. Collins, offensive guard Trai Turner and running back Alfred Blue also are considering leaving LSU early for the draft.
Hill (6-foot-2, 235 pounds) led LSU in rushing with 753 yards as a freshman in 2012. Although he has been enrolled at LSU for only two years, he is eligible for the draft because he is three years removed from high school. His last year at Baton Rouge (La.) Redemptorist High was 2010, but he sat out the 2011 season while dealing with legal matters stemming from his first arrest.