Underclassmen for 2014 draft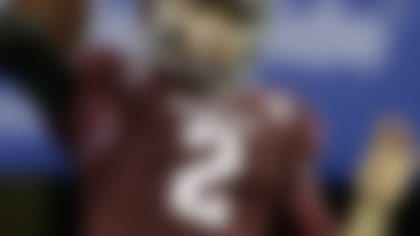 Take a look at the list of players who have announced their intentions to apply for early entry into the 2014 NFL Draft, including Texas A&M QB Johnny Manziel. **More ...**
Earlier in the day, I gave my list of the draft's top running backs, led by Auburn's Tre Mason. I still like Mason, but Hill and Carey's decisions change the list up quite a bit.
Before Hill declared, I said there was a good chance a running back would not be picked in the first round for the second year in a row. I think Hill will be a first-round pick. At 6-2, 235 pounds, he is a big, strong running back who rushed for 1,401 yards, averaging almost seven yards per carry, and scored 16 touchdowns in his sophomore season. His last game of the season might have been his best, a 216-yard, two-touchdown performance against Iowa in the Outback Bowl.
Cam Cameron, the offensive coordinator at LSU this year, recently told me he believes Hill is one of the best running backs he's been around, from the standpoint of power, the ability to catch the ball, etc. When a guy like Cameron, who's been in the NFL as a head coach and offensive coordinator, speaks of a player that highly, you've got to take notice.
One interesting thing about Hill is that he's really only played two years in college. He graduated from high school in 2010 and didn't play at all in 2011 before emerging as a freshman in 2012.
I'm not quite as high on Carey as some people are, but I like him and would probably slot him right below Hill as the draft's No. 2 running back; Mason would be No. 2A. The one thing I worry about with Carey is that he's not a really big guy, at 5-10 and 196 pounds, but he's proved to be very durable. After carrying the ball 303 times as a sophomore, he had 349 this season, including a 48-carry game against Oregon in November.
Carey's quickness doesn't quite jump off the tape like Mason's does, but it's good, and he's been very productive the last two years, with 16 consecutive games of 100 or more yards between his sophomore and junior seasons.
My updated top five running backs in the draft:
Bishop Sankey, Washington