Yes, an NFL team hosted a party for basketball coaches -- and that was at the same time that it was normal for Cowboys scouts to check in with a school's basketball coaches when they were making their rounds to see football prospects.
Projecting hoopsters to NFL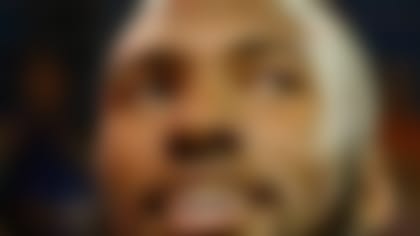 With March Madness tipping off, Mike Huguenin took some of the top players to watch in the NCAA Tournament -- such as Patric Young -- and projected them from the court to the gridiron. More ...
Brandt's first success story in that vein was Cornell Green, a Utah State basketball star who was a 6-foot-3, 205-pound cornerback and safety for the Cowboys from 1962-74. Green, currently a scout for the Denver Broncos, was a five-time Pro Bowl selection. (His brother was Pumpsie Green, the first black player in Boston Red Sox history.)
Brandt said Green was a great athlete, but despite his NFL success, he had problems catching the ball. "If he had any hands at all ...," Brandt said, noting the irony of a good basketball player having bad hands.
Dallas' Super Bowl team in the 1975 season had three former college basketball players: running back Preston Pearson (Illinois), wide receiver Percy Howard (Austin Peay) and tight end Ron Howard (Seattle University). Percy Howard was a teammate at Austin Peay of prolific scorer James "Fly" Williams, and he also is the answer to one of the best Super Bowl trivia questions of all time: Whose only career catch went for a touchdown in Super Bowl X? (Williams' scoring exploits led to one of the best chants in NCAA history: "The 'Fly' is open -- let's go Peay!")
Another former Cowboys player who didn't play college football was wide receiver Pete Gent, who was a basketball star at Michigan State. Gent's biggest claim to fame might be that he wrote the best-seller "North Dallas Forty."
San Diego's Antonio Gates is one of the most prolific tight ends in NFL history, and he famously played no college football, instead starring for Kent State's basketball team. But Brandt points out that Gates was a highly recruited defensive end out of high school who committed to Nick Saban and Michigan State. Gates ended up leaving Michigan State for Eastern Michigan, then two junior colleges before winding up at Kent State. He picked up a football again when he realized there wasn't much use for a 6-4 power forward in the NBA.
Tony Gonzalez is the NFL's career leader in receptions by a tight end, but while he was a basketball star at Cal and led the Golden Bears to the NCAA tournament, he also played two years of football in Berkeley. He finally decided to concentrate on playing tight end rather than power forward.
Kansas City tight end Demetrius Harris spent the 2013 season on the Chiefs' practice squad as a rookie after making the switch from basketball following his senior season at UW-Milwaukee. Harris, who is 6-7, was the third-leading scorer and top rebounder for UWM in 2012-13.
As for current basketball players who could make the switch, one name that Brandt brought up was Ohio State guard Aaron Craft as a possible defensive back. Brandt said he liked Craft's tenacity and quickness, but also pointed out that he had no idea about Craft's overall speed, which obviously would be important. Brandt isn't the only one intrigued by Craft in a football uniform again (he was an all-state quarterback and also played safety in high school in Ohio). Ohio State coach Urban Meyer has talked often about how impressed he is with Craft's toughness, to the point where Craft was asked late last week by a media member whether he would consider playing football for the Buckeyes this fall.
Here's a look at 10 players who, like Craft, will play in the NCAA tournament this week and intrigue us with their potential (but extremely, extremely unlikely) football futures.
Brandt said the idea of turning basketball players into football players has cooled considerably, noting that "football is so much more advanced than ever before." He did say practice squads would make it easier for a player, such as Harris, to develop. The flipside: Teams are much more limited now in the number of players they can bring to camp -- the cap now is 80 -- and Brandt also said he didn't think coaches have the patience now to work with players who are so far behind with their fundamentals.
Mike Huguenin can be reached at mike.huguenin@nfl.com. You also can follow him on Twitter @MikeHuguenin.