Virginia Tech coaches put the game in the hands of senior quarterback Logan Thomas on Thursday, and it paid off in a key 17-10 ACC victory over Georgia Tech.
Thomas had struggled in the first four games, but he had his best outing of the season against the Yellow Jackets. He was 19 of 25 for 221 yards and a touchdown, and he also ran for 58 yards and a score on 16 carries. He provided the vast majority of the Hokies' offense: Tech's tailbacks combined to rush for 1 yard on 8 carries, and the Hokies finished with only 276 yards. Nothing else was working offensively, which made Thomas' performance even more impressive.
Thomas entered the game having thrown six interceptions and four touchdowns. Thursday's game was only the third time in 16 games that Thomas didn't throw a pick. It was the first time since the sixth game of his sophomore season in 2011 -- a span of 26 games -- that he completed more than two-thirds of his pass attempts in one game. And it was the first time in 12 games that he completed 60 percent of his passes.
Thomas (6-foot-6, 254 pounds) is a tremendous physical specimen. He has one of the strongest arms in the nation, is a physical runner and has been clocked as fast as 4.67 seconds in the 40-yard dash. But he hasn't given scouts much to like since the beginning of the 2012 season. His mechanics still need work, which means his accuracy is inconsistent. He sometimes trusts his arm too much, trying to fit passes into holes that aren't really there. And his overall decision-making isn't what it should be for a fifth-year senior.
But the performance against the Yellow Jackets' defense is something to build on in the weeks ahead. Virginia Tech won't see a defense this good again until early November, which is five games from now. Presumably, the Hokies' rushing attack will improve. Thomas' timing with his inexperienced receiving corps should improve, too.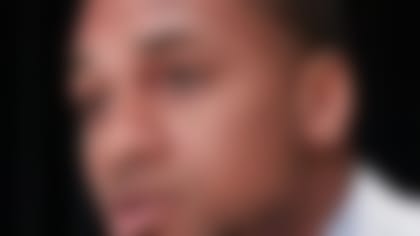 The competition gets tougher for Ole Miss and Donte Moncrief, who take on No. 1 Alabama. Take a look at where that matchup ranks among our top 10 games to watch in Week 5. More ...
Virginia Tech's defense also deserves a ton of credit. Georgia Tech managed 273 total yards, and only 129 came from the ground game. It was only the fifth time since Paul Johnson took over as coach after the 2007 season that the Yellow Jackets rushed for fewer than 150 yards.
Defensive tackles Luther Maddy (6-1, 296) and Derrick Hopkins (6-0, 311) dominated in the middle, and cornerback Kyle Fuller (6-0, 194) again showed off his toughness against the run. Generally considered one of the top 10 senior corners in the nation, Fuller long has been known for his willingness in run support, but he took it to another level Thursday night. He was extremely effective on run blitzes and a big reason no Yellow Jackets runner reached even the 50-yard mark. Fuller has become more accomplished in coverage this season, too, as the Hokies haven't missed a beat in the secondary without stud senior corner Antone Exum, who is recovering from offseason knee surgery.
Mike Huguenin can be reached at mike.huguenin@nfl.com. You also can follow him on Twitter @MikeHuguenin.