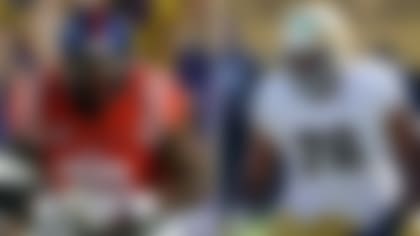 NFL scouts are always looking to the college ranks to find next-level talent, and while it's too early to speculate about which offensive tackles will thrive in the NFL, these 10 linemen certainly have the attention of evaluators heading into the 2015 season.
This is not a list previewing the 2016 NFL Draft, but a look at college tackles that are already generating interest from NFL scouts. Here are 10 to watch in 2015.
1. Laremy Tunsil, Ole Miss
Of all the tackles I studied for this list (and over the past several years), Tunsil is easily one of the cleanest and most impressive. He came to Ole Miss as a heralded five-star recruit and has two seasons of living up to the hype under his belt. He combines cat-quick pass setups, textbook hand usage and elite mirroring technique to deflate and demoralize pass rushers. Tunsil has the body control to get into space and hit/finish moving targets. Tunsil checks just about every box, but could stand to improve his power at the point of attack in the running game. Despite breaking his leg in Ole Miss' bowl game last season, Tunsil will be ready to dominate the SEC once again.
2. Ronnie Stanley, Notre Dame
Stanley has the frame NFL offensive line coaches are looking for. With his durable, thickly built lower body, he can drop anchor and handle up against power rushers. Few tackles are as quick off the snap and into their opponents as Stanley. His ability to roll his hips and generate leverage is critical in the run game. Stanley has only given up one sack over his last two seasons as a starter thanks in part to a well-timed punch. The one area of concern is that Stanley doesn't always bring his feet up under him as a run blocker, which causes him to fall off of some blocks.
3. Germain Ifedi, Texas A&M
Texas A&M has cranked out first-round tackles for three consecutive seasons and it wouldn't shock me to see Ifedi become the fourth. While he might be flying under the radar for some, I promise you scouts are not sleeping on this talented tackle prospect who has shifted from guard to right tackle and now to left tackle. Ifedi has better hands than Cedric Ogbuehi and nearly the same feet. His initial kick-slide gains substantial ground helping to cut off edge rushers, and his change of direction helps to pick up inside moves. Ifedi can still improve his anchor, but he appears to have fewer holes right now than Ogbuehi had at this same stage.
4. Taylor Decker, Ohio State
Decker looks the part with a well-proportioned frame and a confident demeanor on the field. Decker plays with above-average body control and shows the ability to redirect and recover to catch slashing defenders no matter which direction they are headed. Decker is a drive blocker who plays with a good base and pad level. He played a critical role in helping the Buckeyes establish their dominance on the ground as the season progressed. My biggest concern with Decker is he needs to bend and anchor better against bull rushers so he can prove he has what it takes to stand his ground.
Hulk smash! Banner is a masher who drives more defenders into the turf than any offensive lineman I studied this offseason. Banner uses all 360 pounds on his 6-foot-9 frame to jolt, tilt and bury his opponents. Few Pac-12 defenders will be able to consistently deal with his power if his technique is right, and scouts rave about his personal character. Banner is a bit of a plodding shuffler in pass protection, so that is the one area where he must work to improve in order to reach his true potential. However, most pass rushers are finished when he gets his hands on them.
6. Jack Conklin, Michigan State
Steady is the name of Jack Conklin's game. Conklin has allowed just two sacks and 18 overall pressures over the last two seasons. He has been the bell-cow for Michigan State's offensive front. Quarterback Connor Cook has a chance to shine in 2015 because he knows his blindside is protected. Conklin loves to grind it out as a run blocker and does a nice job of snapping his hips into every block. The only concern for me are his issues with changing direction against inside moves.
7. Tyler Johnstone, Oregon
After missing all of 2014 with an ACL tear, Johnstone is out to prove he is ready to pick up where he left off in 2013, when he was second-team All-Pac-12 and had 26 consecutive starts at left tackle. Quickness and overall fluidity as an athlete are on full display with every snap he takes, but scouts are worried about his lean frame and whether or not he's strong enough to hold up against the power he will see as a pro. It will be interesting to see what Johnstone's body type and playing weight look like with a full year to add mass to his frame behind him.
Skipper will move from the left tackle spot to the right tackle spot this season, and that position could be his final destination in the NFL. The Hogs played bully ball last year and are likely to show more of the same with their loaded running back spot and Skipper fits right into the mindset. Skipper has strong hands and does a good job of getting his feet into position to seal off defenders. While his height will give him some issues against smaller, dip-and-bend edge rushers, he has the athleticism needed to play the position on the next level.
There is a lot to like about the true sophomore left tackle who handled himself like a veteran last season. Robinson should take a huge step forward after learning some tricks of the trade at the position. Robinson allowed just 1.5 sacks last season and has the strong lower body to generate movement in the running game. One area where Robinson can show improvement is his balance when asked to move and engage in space. Too often he failed to land clean blows on the second level.
10. Jason Spriggs, Indiana
Highly athletic with an impressive ability to get to the second level despite challenging angles. Some scouts will fall in love with his athleticism, but his lack of pop and functional power must be addressed at some point. The tools, however, are impressive.
Le'Raven Clark, Texas Tech: Clark has been a steady performer for the Red Raiders, but needs to improve technique including his hand placement which can get too wide. Clark's athleticism and overall foot quickness will intrigue NFL teams as a guard able to move in space.
Roderick Johnson, Florida State: Despite being plugged into a starting role as a true freshman near the end of the 2014 season, Johnson improved greatly in the short time he started. Johnson has the tools but is still raw when you study him on tape. With four starters gone from the offensive line, the lights will shine brightly on Johnson in 2015.