LOS ANGELES -- USC athletic director Pat Haden said his decision to fire head coach Lane Kiffin early Sunday morning had "been brewing for a while."
"It hasn't felt particularly good even from the Hawaii game (in season opener). We just haven't been the consistent team we need to be at USC," Haden said at a press conference Sunday at the John McKay Center on the USC campus.
"(Kiffin) wasn't given a fair hand in a lot of ways," said Haden, referring to NCAA sanctions that included significant scholarship reductions. "I said all along we graded on the curve, but he failed on the curve, too."
Defensive line coach Ed Orgeron will take over for Kiffin on an interim basis. Orgeron, 52, has spent 11 years as an assistant at USC in two different stints and was head coach at Ole Miss from 2005-07. His mission, Haden said, is to inject some energy into what had been a moribund sideline.
"This is supposed to be a game of fun and joy," Haden said. "One of the things we're looking for from Ed is to bring that fun and joy back into the game of college football. I promise you he is going to give you everything he has."
"I want to play with some energy," Orgeron said. "I want our guys to believe and have a little fun. We're going to work on those things this week."
Haden said he had hoped last season's collapse -- from being ranked No. 1 in preseason polls to a 7-6 record with losses to rivals UCLA and Notre Dame before an embarrassing thud in the Sun Bowl against Georgia Tech -- was "an aberration," but a poor 3-2 (0-2 Pac-12) start this season made a change necessary.
"We felt we could rebound, make some changes, and indeed Lane did, hired what we think was a spectacular defensive coordinator in Clancy Pendergast," Haden said. "But at the end of the day it just became a gut feeling that we weren't making the progress that I felt we needed to make, that I thought we should be making and didn't see the consistency.
Things we learned in Week 5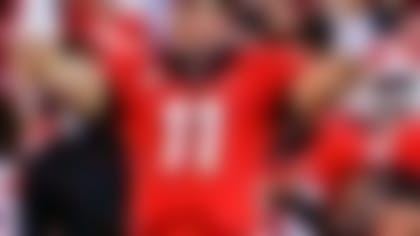 From Georgia's thrilling victory over LSU to USC's loss that got Lane Kiffin fired, here are 43 things we learned about Week 5 in college football. **More ...**
"It's never the perfect time to do these things. I thought it was the right time, and that's my job."
Haden laid out the timeline for Kiffin's dismissal, which included a 45-minute meeting at Los Angeles International Airport after the team charter returned home from its 62-41 loss at Arizona State.
"Lane was clearly disappointed," Haden said. "He's a great recruiter, he battled me. He really, really tried to keep his job, and I respect him for that."
Linebacker Devon Kennard and offensive lineman Marcus Martin also spoke to the media, quashing reports that Kiffin had lost the locker room with his often abrasive style.
With Kiffin, who called plays on offense, no longer on staff, those duties will now fall to quarterbacks coach Clay Helton, Orgeron said. Redshirt sophomore Cody Kessler will remain the starting quarterback and Orgeron did not expect significant changes from an offense that has struggled this season to score.
As far as the next USC head coach, Haden said he had a list of candidates ready as the normal course of action, but would refrain from discussing the process as it would be "disrespectful" to players as they finish out the season.
"I've been thinking about this since the day I got the job. I wouldn't be doing the job if I wasn't thinking about that," Haden said.
USC has a bye week before hosting Arizona on Oct. 10.