Babin could lose both this week.
His single-season mark of 32, set when he was a senior at Western Michigan in 2003, is in danger of being broken by Pitt senior defensive tackle Aaron Donald, who has 26 with two games remaining. His career mark of 75, set from 2000-03, is being threatened by Buffalo senior outside linebacker Khalil Mack, who is 2.5 short with at least one game and maybe three remaining.
Week 13: Things we learned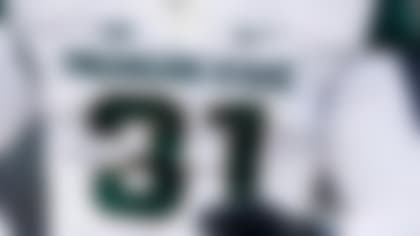 From Darqueze Dennard proving his status as a shutdown corner to an ailing Jadeveon Clowney sitting out, here are the lessons we learned in Week 13 of college football. More ...
Donald (6-0, 285 pounds) is trying to become the first interior lineman to lead FBS in tackles for loss since the stat was instituted in 2000. He has 6.5 TFLs in the past two games and 12.5 in the past four. Donald also is tied for ninth nationally with 10 sacks; he has 28.5 career sacks, tied with Mack for the lead among all active players.
North Carolina coach Larry Fedora called Donald "a one-man wrecking crew," and that was before Donald had three tackles for loss against the Tar Heels.
Donald and Pitt play their regular-season finale Friday at home against Miami (3:30 p.m. ET, ABC). Pitt already is bowl-eligible, too, giving Donald another opportunity to break Babin's mark.
Only five FBS players have had 30 tackles for loss in a season: Babin, Arizona State's Terrell Suggs (31.5 in 2002), USF's George Selvie (31.5 in '07), Eastern Michigan's Kenny Philpot (30.5 in 2001) and Houston's Sammy Brown (30 in 2011). Donald's total already is tied for 14th in NCAA history.
Mack (6-3, 245), ranked ninth on NFL Media senior analyst Gil Brandt's list of the nation's top 100 seniors, already holds the NCAA career record for forced fumbles with 16. He has 16.5 tackles for loss this season and could break Babin's career mark Friday in a MAC East showdown with Bowling Green (1:30 p.m. ET, ESPNU). The winner takes the division title and moves on to face Northern Illinois in the Dec. 6 MAC championship game.
Mack already is second in NCAA history in the category; he and Babin are the only players with more than 70 TFLs in their careers.
Buffalo (8-3), whose losses have come against teams with a combined five losses (Baylor, Ohio State and Toledo), already is bowl eligible, so Mack could have three opportunities to set the career record.
Mike Huguenin can be reached at mike.huguenin@nfl.com. You also can follow him on Twitter @MikeHuguenin.