It's too late to get his Heisman campaign off the ground, but Kent State senior running back Dri Archer saw his most extensive action of the season Saturday and scored his first touchdown.
Archer, one of the nation's most explosive players, suffered an injured ankle on the Golden Flashes' opening drive of the season. He missed Game 2, played one series in Game 3, then missed Game 4 before playing a lot in Saturday's win over Western Michigan.
Things we learned in Week 5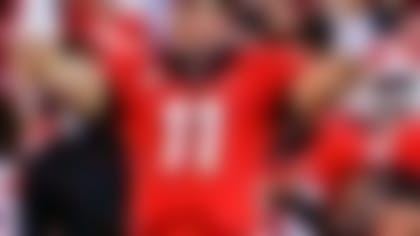 From Georgia's thrilling victory over LSU to USC's loss that got Lane Kiffin fired, here are 43 things we learned about Week 5 in college football. **More ...**
Archer had 73 yards on six carries and added 48 yards and a TD on four receptions. The touchdown came on a 31-yard pass from Colin Reardon with 6:15 left in the first half.
"It was nice to get back out there with my teammates," Archer told reporters afterward. "After I made contact on my first play, I knew I was going to be good for the rest of the game. The touchdown was a great throw by Colin."
The touchdown was the 30th of Archer's career; that total is fifth in school history. He had a 33-yard run, which was the longest by a Kent State running back this season. He had 20 plays of at least 30 yards last season and 12 of at least 40 yards.
Archer ran for 1,429 yards and 16 TDs last season; he scored 23 total touchdowns last season, setting a school single-season record, and finished fifth in the country with 184.1 all-purpose yards per game.
The victory was Kent State's first at Western Michigan since 1988. Archer and the Golden Flashes play host to Northern Illinois next Saturday in a a rematch of the 2012 MAC championship game, which NIU won to nail down a BCS bid.
Mike Huguenin can be reached at mike.huguenin@nfl.com. You also can follow him on Twitter @MikeHuguenin.