Mike Huguenin has spent more than 29 years in sports journalism, many of them closely associated with college football. As a longtime Heisman Trophy voter and one who will cast his ballot again at the end of this season, Huguenin takes a weekly look at the Heisman race.
Things we learned in Week 5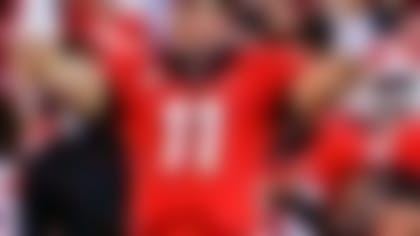 From Georgia's thrilling victory over LSU to USC's loss that got Lane Kiffin fired, here are 43 things we learned about Week 5 in college football. More ...
Georgia quarterback Aaron Murray again played well against a high-profile opponent and moved into this week's Heisman watch list.
Murray and the Bulldogs have played a tough early-season schedule, with games against Clemson, LSU and South Carolina already in the books. And Murray played well in all three games.
Also moving into the list is Oregon State junior wide receiver Brandin Cooks, who is lighting up secondaries on the West Coast and putting himself into discussions about the best wide receiver in the nation.
Another player from the Pacific Northwest, Washington tailback Bishop Sankey, can strengthen his Heisman case this week. Sankey and the Huskies travel to play Stanford, and a big game against the tough, physical Cardinal perhaps can elevate Sankey -- the nation's leading rusher -- into the Heisman watch list top five.
Here are this week's top 10 contenders, from 10th to first, as this Heisman voter sees them:
10. WR Brandin Cooks, Oregon State
2013 stats: 52 receptions, 161.4 receiving yards per game, 15.5 yards per catch, 9 TDs
Last week: 9 receptions for 168 yards and 2 TDs; 5 carries for 47 yards in 44-17 victory vs. Colorado
The skinny: The Beavers are five games into the season, and Cooks, a junior, already has put up numbers a vast majority of the nation's wide receivers would take as season-ending stats. He already has had two games with at least 13 catches, four games with at least 100 receiving yards and three games with at least 168 receiving yards. Cooks (5 feet 10, 186 pounds) was the Beavers' No. 2 receiver last season and has slid easily into the go-to receiver role this fall.
9. QB Derek Carr, Fresno State
2013 stats: 361.3 passing yards per game, 14 TDs, 3 interceptions, 69.2 completion percentage
Last week: 33-of-47 passing for 324 yards, 2 TDs, 2 INTs; 6 carries for 11 yards, TD in 42-37 victory vs. Hawaii
The skinny: Carr tossed two interceptions in a closer-than-expected victory over Hawaii on Saturday night. He also threw two TD passes, and for him to stay even on the fringe of the Heisman discussion he has to put up better numbers against Fresno's relatively weak schedule from here on out. The positive aspect of the easy schedule: He is the best player on a team that could finish unbeaten, which will garner him some attention.
8. QB Brett Hundley, UCLA
2013 stats: 282.7 passing yards per game, 8 TDs, 3 interceptions, 66.3 completion percentage, 52.3 rushing yards per game, 2 TDs
Last week: UCLA had a bye.
The skinny: The Bruins were off this weekend and play at Utah on Thursday in an important Pac-12 South contest. The Utes' pass defense has been shaky, so a big performance from Hundley should be expected.
7. RB Bishop Sankey, Washington
2013 stats: 151.8 rushing yards per game, 5 rushing TDs, 1 receiving TD.
Last week: 40 carries for 161 yards, 1 TD in 31-13 victory vs. Arizona
The skinny: Sankey had 40 carries in the Huskies' dominating win over Arizona, and he leads the nation in rushing. It was his second game with at least 35 carries this season and the eighth time in Washington's past 10 games that he had at least 25 carries. He'll have a chance to make a big Heisman statement this weekend, when Washington plays at Stanford.
6. TB Lache Seastrunk, Baylor
2013 stats: 139.0 rushing yards per game, 6 rushing TDs.
Last week: Baylor had a bye.
The skinny: Seastrunk and the Bears were off this past Saturday; Baylor plays West Virginia next, and WVU's defense can be exploited. Seastrunk should reach the 100-yard plateau in every game this season.
5. QB Aaron Murray, Georgia
2013 stats: 334.5 passing yards per game, 11 TDs, 3 interceptions, 68.1 completion percentage, 3 rushing TDs.
Last week: 20-of-34 passing for 298 yards, 4 TDs, 1 INT; 3 carries for 9 yards, 1 TD in 44-41 victory vs. LSU
The skinny: Murray seemingly is criticized more than any other high-profile quarterback nationally, but he has put up excellent numbers against the nation's toughest early-season schedule. He threw for 298 yards and four TDs against LSU this past weekend; he also tossed four TD passes against South Carolina. Georgia's schedule eases considerably in October, which should mean good numbers in the coming month.
4. QB Marcus Mariota, Oregon
2013 stats: 250.8 passing yards per game, 9 TDs, 0 interceptions, 56.1 completion percentage, 73.8 rushing yards per game, 5 TDs.
Last week: 11-of-25 passing for 114 yards, 2 TDs, 0 INTs; 6 carries for 33 yards, 1 TD in 55-16 victory vs. California
The skinny: Mariota played less than three quarters as Oregon shellacked California in the rain this past weekend. Mariota threw two TD passes and also ran for a score. He has thrown at least one TD pass in all 17 games of his career and has thrown and run for a score in six consecutive games. Still, he struggled in the wet weather against Cal, going just 11 of 24 for 113 yards. He and the Ducks should shred Colorado's defense this weekend.
2-13 stats: 248.5 passing yards per game, 9 TDs, 0 interceptions, 64.0 completion percentage, 4 rushing TDs.
Last week: 17-of-24 passing for 311 yards, 3 TDs, 0 INTs; 17 carries for 69 yards, 1 TD in 56-7 victory vs. Wake Forest
The skinny: Boyd threw for 311 yards and three TDs and also rushed for a score as Clemson trounced Wake Forest. He also didn't throw an interception, meaning he has gone four consecutive games without an interception for the first time since he became the Tigers' starter in 2011. Boyd and Clemson play at Syracuse next week, and the Orange's secondary can be exploited.
2. QB Teddy Bridgewater, Louisville
2013 stats: 303.5 passing yards per game, 14 TDs, 1 interception, 71.8 completion percentage.
Last week: Louisville had a bye.
The skinny: Louisville didn't play this past weekend and gets a horrendous Temple team this week. The Cardinals' schedule is so easy that big numbers are expected each week from Bridgewater. And if he doesn't produce big, he risks losing ground in the Heisman race.
1. QB Johnny Manziel, Texas A&M
2013 stats: 297.8 passing yards per game, 14 TDs, 4 interceptions, 71.4 completion percentage, 62.8 rushing yards per game, 3 TDs.
Last week: 23-of-30 passing for 261 yards, 2 TDs, 0 INT; 9 carries for 59 yards in 45-33 victory vs. Arkansas.
The skinny: Manziel had -- for him -- a somewhat pedestrian day at the office against Arkansas: 320 total yards and two TD passes in a 12-point win over the Hogs. He threw for 261 yards and rushed for 59. He put up 253 total yards in the first half before shutting it down a bit in the second half. A&M had 523 total yards, with TBs Ben Malena and Tra Carson doing a lot of damage on the ground. Manziel and A&M are off this weekend, then play at Ole Miss on Oct. 12.
Mike Huguenin can be reached at mike.huguenin@nfl.com. You also can follow him on Twitter @MikeHuguenin.