Johnny Football is probably just a year away.
That was the inescapable conclusion to be drawn from Monday's outstanding feature by ESPN's Wright Thompson on Texas A&M quarterback Johnny Manziel, which chronicled the stresses of Manziel's year-long journey from anonymity to celebrity from the inside out.
Debate: Manziel's off-field antics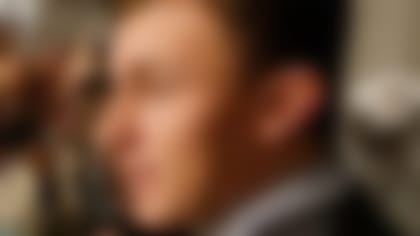 NFL Draft 365 experts contemplate if the laundry list of off-field antics for Heisman winner Johnny Manziel will be a concern for prospective NFL teams. **More ...**
Thompson's piece made it clear that Manziel's readiness to play in the NFL, a matter due for hot debate this winter, isn't the only factor that could permanently clear his locker in College Station two years early. A widening gap between Texas A&M and the Manziel camp, in particular, Manziel's father, Paul, could be another. Thompson's story illustrates a level of distrust that doesn't lend itself well to the possibility of Manziel remaining in college any longer than necessary.
Paul Manziel summarized it this way:
"It's starting to get under our skin. They're so selfish."
Because Manziel redshirted at TAMU in 2011 and is thus three years removed from high school, he is eligible to turn pro after this season if he chooses. Thompson, asked Tuesday in a Q&A about the story whether he expected Manziel to play at TAMU beyond this season, was clear:
"I just can't imagine a single scenario where that happens. I would bet a lot of money that this is it. They just need to start the damn season," Thompson said.
The timing for Manziel to enter the NFL couldn't be more ideal. Had he been of draft-entry age five years ago, he'd have been dismissed under the NFL model for quarterbacks that says short ones can't succeed (Manziel is generously listed at 6-foot-1). Instead, he's approaching a pro career -- be it next year or otherwise -- at a time when the NFL is more willing to sacrifice size for athleticism at that position. Meanwhile, the read-option offense, seemingly ideal for Manziel's skill set, is trending.