On Wednesday, Johnny Manziel became one of 80 underclassmen who have filed their paperwork for the 2014 NFL Draft, breaking the previous record of 73, which was set just last year. That list isn't likely to stop there. By my estimation, the number could jump past 100 by the time the early entry deadline arrives next Wednesday.
The growing number of underclassmen turning pro early is a trend that, unfortunately, is likely to continue. I say "unfortunately" because many of these players -- the majority of the time -- are coming into the league sooner than they probably should. Last year, for example, when 73 underclassmen chose to leave school early, only 52 were drafted. That means nearly 30 percent of the early entrants went undrafted.
I think the reasons for the early entry trend boils down to two factors, the first of which is competition among agents. Player representation is a very competitive business, and a lot of times if you're an agent who is largely unknown and looking for a breakthrough, you'll try to single out an underclassman that a more established agent hasn't gone after yet. You have a better chance of getting that player now than you would a year from now, when you'd have to compete for these players with the higher-profile agents of the world like Tom Condon. Consequently, a lot of underclassmen are represented by less-established agents.
The second reason is more obvious: There's a lot of money out there, and tremendous pressure on players and their families who are contacted by agents and told that their child is going to be a second-round pick if they come out early.
Sometimes, though, what appears to be the best deal today isn't necessarily the best deal. I know of very few players whose draft status went down because they stayed an extra year. That's what I always try to tell these kids. If you're an underclassman who is going to be drafted in the second round this year, you have a much better chance of advancing than going down the following year.
Maybe more important, your odds of having a longer career and being more mentally prepared when you enter the league are higher if you return to school. I'm convinced -- and I know I'm a dying breed -- that the player who stays in college his entire career before going pro is better off than the guy who comes out early. I advise everyone to return as a senior because I think it's just the right thing for them to do. I don't know if most people realize the difference between a 24-year-old who's spent two or three years in the league and a 21-year-old underclassman coming into the league. It's a great difference, like an eighth grader trying to compete with graduate students from MIT. You're not as strong or mature yet, and the dynamics of staying those extra years are very helpful to your development. It can only help a player be better in the NFL much sooner than the guy who left school early.
Underclassmen for 2014 draft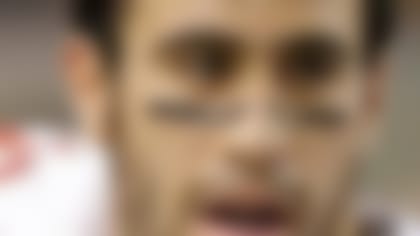 This fact is especially true for positions like offensive line. One interesting point about the underclassmen who have declared to this point is that only five of the 80 are offensive linemen, which I believe is a good thing. It's a position that requires a lot of strength, and by staying another year it allows players to get stronger and come in to play right away to compete with the bigger, stronger NFL linemen.
If there is a position that is less risky for early entry, though, it would probably be running back, where the only thing many of these younger players have to pick up when they enter the league is to pass-protect better. Wide receiver is another less-risky position. We're seeing some of this play out this season in the NFL, with the top two offensive rookies being Green Bay Packers RB Eddie Lacy and San Diego Chargers WR Keenan Allen, both of whom entered the draft after their junior seasons. Those would probably be the two positions where you could leave school early and it won't impact you as much as if you were an offensive lineman, linebacker, defensive lineman or quarterback.
Manziel, of course, is a rare case. He's a unique individual, a 21-year-old going on 25. He's very mature for his age, which will help him as a pro, and the amount of improvement he's shown in his two seasons at Texas A&M -- as a passer, in his decision-making and so forth -- has been amazing and tells you a lot about the kind of player he is. He is already a very dynamic player, someone who has Doug Flutie's magic and tons of skill, and with the exception of reading defenses a little better, I don't know how he can get any better than he is right now.