ARLINGTON, Texas -- After all the offseason talk, we finally had a chance to see the top prospects in college football take the field this weekend, and I was on hand for the opener in Arlington, Texas between Florida State and Oklahoma State on Saturday night. I didn't get a chance to see Georgia-Clemson or LSU-Wisconsin, but Georgia running back Todd Gurley and Wisconsin running back Melvin Gordon were the talk of the press box in Arlington. There's already a lot of buzz building about their 2014 debuts.
Week 1: Things we learned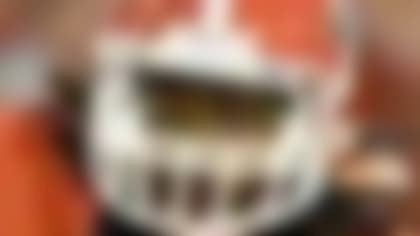 From Todd Gurley's dominant performance to Christian Hackenberg's record-setting game, here are the things you need to know from college football's opening weekend.
Here are my observations on some of the prospects I had a chance to watch on Saturday:
Jameis Winston was very inconsistent in Florida State's win over Oklahoma State. His 28-yard touchdown run was a highlight, and he made a couple stick throws on deep crossers, but his movement inside the pocket could have been better. He forced some throws and his overall ball placement wasn't sharp.
I was hoping he would tighten up his delivery a little bit more this season. It still looks pretty long, though.
The protection for UCLA quarterback Brett Hundley wasn't very good, and Bruins receivers had some costly drops, but Hundley wasn't particularly sharp in Saturday's win at Virginia.
He held the ball for too long at times, and wasn't being decisive enough. Now, when UCLA needed a big-time throw, Hundley made it -- his 3rd-and-9 completion to wide receiver Jordan Payton for a first down on what turned out to be the game's final possession was huge. That was an NFL throw and a great catch, too. I've never had concerns about his arm strength, though. For anyone that did have concerns about it, that throw should put those doubts to rest.
As the season progresses, Hundley has to be more decisive with the ball in the pocket and improve his accuracy on deep throws.
Hackenberg goes through ups and downs
It was a mixed bag for Penn State's Christian Hackenberg on Saturday against UCF in Ireland. He's a true sophomore and won't be eligible for the draft until 2016 if he foregoes his remaining eligibility at that time, but a lot of evaluators around the country are excited about his potential. He has a huge arm, and, unfortunately, he believed in it a little too much on Saturday. He forced balls into coverage, throwing two bad picks. However, like Hundley did for his team, Hackenberg stepped up when Penn State needed it, leading the team on a game-winning drive to a field goal in the final moments. He made some big throws and showed a lot of poise down the stretch in the Nittany Lions' win.
Check out the top images from the first weekend of college football play.
Alabama wide receiver Cooper is coming off a somewhat disappointing season. I thought he was right in the mix with Sammy Watkins as one of the top targets in college football heading into 2013, but he didn't live up to that billing, and injuries were partly to blame. He looked outstanding in Saturday's opener against West Virginia, though. He's made some subtle improvements in his release off the line. Cooper had trouble getting off the line against press coverage last year. He was electric off the line today. The Mountaineers' defensive backs couldn't get a hand on him.
Funchess reminiscent of Jeffery
Devin Funchess' transition from tight end to wide receiver is off to a seamless start. The Michigan star reminded me of Chicago Bears wide receiver Alshon Jeffery with the way he went up to get the ball on Saturday vs. Appalachian State. However, as impressive as he was catching the ball, the plays he made after the catch were even more impressive to me.
Greene looks like mid-rounder
Seminoles wide receiver Rashad Greene runs really clean routes and I love the way he attacks the ball. When they needed plays to be made, he's the guy Florida State went to on Saturday against Oklahoma State. He had one drop in the game, but otherwise was pretty strong.
I view him as a third-round guy right now. The only real negative is he lacks ideal size at 6-foot-0, 180 pounds.
Florida State RB impresses
I had a chance to get an up-close look at Florida State running back Karlos Williams during warmups, and I was impressed. He has an NFL body, and he didn't disappoint once the game began. Williams appears to be more comfortable running on the perimeter than between the tackles, and he has an explosive burst. He runs a little upright, but he's a physical runner and is an asset in the passing game. He runs clean routes and has strong hands. The way he transitions from catching the ball to getting upfield was very impressive for a running back. I think he has a chance to be a three-down back at the next level.
FSU's Edwards disappointing
I had really high expectations for FSU DE Mario Edwards going into Saturday and came away a bit disappointed. He would benefit from dropping some weight. Now, he has strong hands and some power as a rusher, but I didn't see a real explosive upfield burst from him. He struggled a little bit whenever he had to change direction. He is pretty polished with his hands, though, and made a big sack when the Seminoles needed it late in the game.
Coming out party for Oklahoma State RB
Cowboys JUCO transfer Tyreek Hill reminded me on Saturday night of New York Jets running back Chris Johnson when he was at East Carolina. Florida State probably has as much team speed as anyone in the country, and Hill looked like the fastest guy on the field. He's fun to watch. Oklahoma State should get him the ball a little bit more -- he was a difference-maker as a kick returner and also as a runner.
Check out the best moves of college football cheerleaders during the 2014 season.
UCLA defensive end Owamagbe Odighizuwa missed all of last season as he recovered from hip surgeries. It might not have shown on the stat sheet, as he was credited with just two tackles, but he was outstanding in his return on Saturday. At 6-3, 270, he's a physical specimen. He created a lot of pressure against Virginia. He's a very intriguing guy. I had heard some buzz from scouts about him during two-a-days. He lived up to it against the Cavaliers.
West Virginia WR intrigues
West Virginia wide receiver Kevin White will be an interesting guy to follow over the course of the season. A junior-college transfer, he has outstanding size at 6-3, 210, and made a 19-yard touchdown catch vs. Alabama. The big question is his speed. As far as going up and getting the football, he looked excellent on Saturday.