Florida State's defense of its national title got off to a shaky, but ultimately successful, start. The same can be said for quarterback Jameis Winston's Heisman defense.
Florida State held off Oklahoma State 37-31 in a game much closer than expected. Winston threw for 350 yards and a touchdown and also rushed for a score, but he threw two interceptions (it should have been three, but one was dropped by a defensive lineman), looked rattled at times (he was sacked twice) and struggled when he wasn't throwing to favorite receiver Rashad Greene.
Winston finished 25-of-40 on the night, a completion percentage of 62.5. Interestingly, in his first 10 career games, Winston completed at least 63 percent of his passes seven times; in each of his past five games, his best percentage was Saturday night's outing, and three times he was below 60 percent.
Winston was sharp in the first quarter, going 9-of-10 for 117 yards in leading FSU to a 10-0 lead. But he looked flustered in the second quarter, going 5-of-12 and throwing two interceptions -- matching his single-game high from last season.
Winston's TD pass came late in the fourth quarter, a 50-yarder to Greene that came two plays after an Oklahoma State fumble and gave FSU a 13-point lead. Winston's TD run came on an impressive 28-yard ramble in the third quarter that gave FSU a 27-17 lead.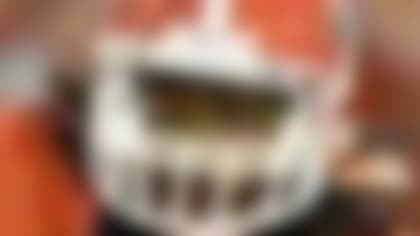 From Todd Gurley's dominant performance to Christian Hackenberg's record-setting game, here are the things you need to know from college football's opening weekend.
Greene finished with 11 receptions for 203 yards and the TD; that means almost 60 percent of FSU's receiving yards came from Greene. The rest of the wide receiver corps was an issue heading into the game, and it remains one. Kelvin Benjamin and Kenny Shaw, who combined for 21 TD receptions last season, are gone from last season, and there is no clear-cut No. 2 receiver. Senior Christian Green had two catches for 73 yards, including a 62-yarder in the second quarter, against Oklahoma State, but he was invisible for much of the game, as were the rest of FSU's wideouts. Tailback Karlos Williams finished with five receptions, just three fewer than he had all of last season.
In a quick on-field interview after the game with ABC's Heather Cox, Winston said, "We got to get those guys on the same level" when he was asked about Greene vis-à-vis the other receivers.
FSU likely will be much sharper next week, when the Seminoles meet overmatched FBC foe The Citadel. Then FSU gets a week off before welcoming in Clemson on Sept. 20.
Mike Huguenin can be reached at mike.huguenin@nfl.com. You also can follow him on Twitter @MikeHuguenin.