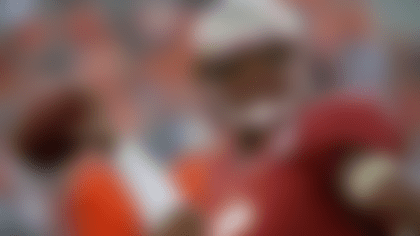 It's fun to talk about numbers in sports, and while projecting stats might seem an exercise in futility to some, did we mention that it's fun to talk about numbers in sports?
Besides, we're still about six weeks away from the start of the college football season, so why not slip on the Nostradamus hat and try to figure out who will lead various statistical categories in each league?
Today, we're spotlighting the ACC. Tuesday, it will be the Big Ten.
Passing yards: FSU QB Jameis Winston
Buzz: Winston led the ACC and was ninth nationally with 4,057 passing yards last season; that was a FBS record for passing yards by a freshman and the fourth-highest total in ACC history. There are some concerns at wide receiver for FSU this season, so Winston might not reach the 4,000-yard plateau again, but he still should lead the league in passing yards. Winston (6-foot-4, 235 pounds) is the only returning quarterback in the ACC who threw for even 2,300 yards last season.
Rushing yards: Miami RB Duke Johnson
Buzz: The ACC has just one returning 1,000-yard rusher -- and it's Virginia's Kevin Parks, not Johnson (5-9, 206), a junior. But Johnson easily would've reached 1,000 had he not suffered a broken leg in the eighth game. This season, a legit goal is 1,500 yards. Johnson is the most talented tailback in the league, and given Miami's questionable quarterback situation, he will be the focal point of UM's offense.
Receiving yards: Louisville WR DeVante Parker
Buzz: Even without Teddy Bridgewater at quarterback, Louisville seems likely to throw the ball all over the place with Bobby Petrino as its new coach. And that's good news for Parker (6-3, 208), a physical marvel who had 885 receiving yards last season. Duke's Jamison Crowder is the leading returnee in this category in the ACC, and while he seems likely to have a third consecutive 1,000-yard season, the thought here is Parker will have a bigger campaign as a senior.
Tackles: Boston College LB Steven Daniels
Buzz: BC had two linebackers with at least 100 tackles last season (Steele Divitto and Kevin Pierre-Louis), when Daniels had 88. But with Divitto and Pierre-Louis gone, look for Daniels to fill the void. Daniels (6-0, 257), a junior, is a physical player with big-play capabilities. He is stout against the run, but also has some pass-rush skills.
Sacks: Clemson DE Vic Beasley
Buzz: Beasley (6-2, 235), a senior, is the nation's leading returning sack man, with 13. He has 21 sacks in his career, and while stopping him (or at least slowing him) will be the object of every opposing offensive coordinator, Beasley still should be able to get into double digits in sacks. While Beasley is an end at Clemson, NFL Media analyst Bucky Brooks wrote last week that Beasley could "thrive in a Von Miller-like role as a hybrid Sam linebacker in a 4-3 scheme" at the next level.
Interceptions: Virginia Tech CB Kendall Fuller
Buzz: Fuller (5-11, 195) was excellent last season as a true freshman, finishing with six interceptions and 11 pass breakups. He produced those stats playing alongside his brother, Kyle, who eventually was taken by the Chicago Bears in the first round in May's draft. Kyle is gone now, but Kendall and fellow sophomore Brandon Facyson still will give the Hokies one of the nation's top five cornerback duos. Fuller seems to have an innate sense about how to attack the ball in the air, and he has a nice mix of size and speed; he also is comfortable in run support, but his ball skills will get him noticed this fall.
Mike Huguenin can be reached at mike.huguenin@nfl.com. You also can follow him on Twitter @MikeHuguenin.