With Logan Thomas of Virginia Tech and Stephen Morris of Miami set to graduate, both college football fans and draftniks alike will be looking for a new supremely gifted, maddeningly inconsistent quarterback to overanalyze on a weekly basis.
Week 11: Top QB performances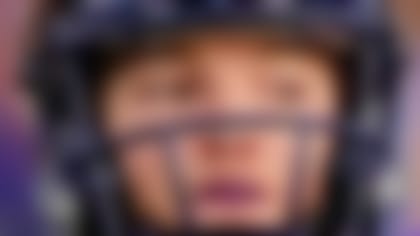 Johnny Manziel and Maty Mauk each tossed 5 TD passes Saturday -- good but not quite good enough to be No. 1 in our top 10 quarterback performances of Week 11. More ...
Utah sophomore Travis Wilson could easily fill that role.
Just look at his roller coaster 2013. He has a 7:0 touchdown-to-interception ratio in non-conference play, including games against Utah State and BYU, but also had a six-interception outburst against UCLA, a game in which the Utes still had a chance to win on their final possession. He led Utah to a shocking upset win over Pac-12 North frontrunner Stanford, but followed with a horrendous three-game stretch, including Saturday's narrow loss to South division leader Arizona State.
Wilson was 6-of-21 passing for 121 yards, two touchdowns and two interceptions in the 20-19 loss to the Sun Devils. In his last three games, he has completed just 31.8 percent of his attempts (14 of 44) for 187 yards, three touchdowns and six interceptions.
Myriad issues have come together during Wilson's recent downturn. There was the injury to Wilson's throwing hand, which he suffered against Arizona, and his pass protection has broken down, leading him to be sacked 13 times against the Wildcats, USC and ASU.
"We can't protect at all, and that is a problem, and it's getting worse," Utah head coach Kyle Whittingham told the Salt Lake Tribune. "We have to protect this guy. That is what has to happen."
While Wilson is still a youngster, set to make his 17th career start Saturday at Oregon, he is still prone to making inexplicable throws. Throwing into double or triple coverage? Throwing it up for grabs because of pressure? Doesn't matter, Wilson will do it.
And yet, Wilson has one of the most intriguing skill-sets of any signal-caller on the West Coast. A 6-foot-7, 240-pound former volleyball player, he can move like a giraffe-sized Johnny Manziel. Wilson has rushed for a team-high five touchdowns this season, to go along with 386 yards on the ground and a 4.8 yards per carry average. (Those totals are deflated by yardage lost on sacks, mind you.)
Wilson has the potential to be a legitimate NFL prospect. He also has the potential to be so frustrating that Whittingham could pull the plug. Whatever happens, Wilson is going to be worth watching and wringing hands over, for the good and the bad.