Devon Allen has enough speed to make the fastest players in college football envious, and could be as few as nine months away from embarking upon a pro-football career. Yet, entering his fourth year at the University of Oregon, Allen can't be sized up by NFL scouts as a draft prospect very easily. In fact, whether football is even part of Allen's future is a question all its own.
He's too fast to know for sure.
Allen finished first at the U.S. Olympic Trials in the 110-meter hurdles with a time of 13.03 seconds, more than fast enough for him to earn a spot in Rio de Janeiro for this month's Summer Games. He's unsure whether his future as a professional athlete will come with a helmet or hurdles, but he's enjoying the ride until life makes the decision for him.
"Where it ends up, I don't know," Allen said.
NFL scouts can't be sure where it will end up, either. But make no mistake, they're paying attention.
An NFC West scout told College Football 24/7 that Allen can be a team's primary kickoff returner in the NFL "from Day 1."
Allen has played only one full season as a starter at Oregon, in 2014, amassing 684 receiving yards on 41 receptions for a robust average of 16.7 yards per catch. In the inaugural College Football Playoff, however, he tore the ACL in his right knee while returning the opening kickoff of a national semifinal against Florida State in the Rose Bowl.
He wasn't quite the same player the following year, catching just nine passes. Allen called the season disappointing, and said "I want to prove myself in football again."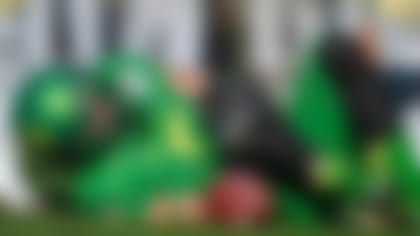 Oregon coach Mark Helfrich is glad to give him the chance. Asked what caused Allen's dip in production last year, the third-year coach pointed to two things.
"I think it was somewhere on that sliding scale between a physical issue and the mental side of coming back from an injury like that," Helfrich said.
Allen now is most certainly past any physical concerns. He underwent surgery in December to clean up some scar tissue in the knee, and began feeling like his old self in March. Just three months later, his recovery was fully validated when he won the NCAA title in the 110-meter hurdles, for the second time in his career, with a time of 13.50 seconds.
While there, he met Cleveland Browns quarterback Robert Griffin III, who starred at Baylor in both track and football, and exchanged phone numbers. Allen said the two haven't spoken since, but before a decision between football and track must be made, he intends to give RGIII a ring. Meeting Griffin was an exciting moment for Allen, a self-described NFL fan who was playing tackle football by the age of 5.
With just 50 career receptions to his credit, the coming season will be crucial for Allen's continued development at the position.
"This will be a big year for him to show he can add some polish to his game," said NFL Media analyst and former scout Daniel Jeremiah. "But you can see on tape how easily he can just run by people. I think he just needs more reps."
NFL Media analyst Lance Zierlein has yet to evaluate Allen's football game film, but said the degree to which the fourth-year junior has proven himself as an athlete makes him certain to draw serious evaluations from NFL scouts.
"If you're that fast, you're a prospect. Scouts will want to see more and know more because he didn't play much last year," Zierlein said. "Production is important, and a big year could impact where he would get drafted, but he runs well enough that he'll be scouted regardless."
To Zierlein, Allen's blazing-fast times in the 110-meter hurdles event are as good an indicator for NFL scouts as a 40-yard dash, if not better, because of the extra athleticism that hurdling demands.
For Helfrich, the next step for Allen as a receiver is getting a cleaner release off the line of scrimmage when pressed, and playing better at the point where the pass route breaks off.
"I think improvement at the top and bottom of his routes, that's going to be big for him, just with some of the techniques that go with coming out of breaks and those types of things," Helfrich said.
Helfrich made this much clear, as well: Allen doesn't fit the stereotype of the track athlete who is too fragile and too short on toughness to play football. To the contrary, he's earned the respect of every player in the UO locker room, Helfrich said, for what he can do on turf, not on a track. For Jeremiah and fellow analyst Chad Reuter, Allen's toughness shows up on game film, as well.
"I was pleasantly surprised with his toughness. Guys with track backgrounds, that's sometimes a little bit of a concern," Jeremiah said. "But I saw him go over the middle, take some hits, break some tackles. He's a strong kid."
"I think he has some toughness to go along with that speed and agility, to be at least a valuable kick returner or a third receiving option," Reuter said. "I don't believe he's only a track guy who can't handle physicality, and he should only get stronger in an NFL club's strength and conditioning program."
The importance of preparing for the coming football season wasn't lost on Allen even in the final stages of his preparation for the Olympics. The first round in his event will be held on Monday, and with the opportunity to win a gold medal in front of him, he refused to fully abandon Oregon football summer workouts. Jim Radcliffe, the strength and conditioning coach for both the Ducks' football and track programs, tailored a workout to keep him simultaneously preparing for the Rio Games and Ducks games.
"I'm doing my lifts over there on the football team. I'm not route-running, just catching a few balls here and there, and lifting. I'm staying away from 7-on-7 stuff, just to avoid the risk of injury, I don't need to do that right now," Allen said before leaving for Rio. "But football gives me a break from track. It keeps me sane to be around those guys."
As for the decision of which sport he'll ultimately try to pursue, Allen is content to see where both lead him for now. But the Olympics are a bigger dream for him than the NFL, and he recognizes this much: A pro track career is more within his immediate grasp.
"I could have a great career in track right this second. I'm an Olympic Trials champion. I'm going to the Olympics. In football, things are more up in the air. It depends on so many other things. Eventually, I want to play in the NFL. It's all about timing," Allen said. "Hopefully this year goes well enough that I feel comfortable going into the NFL draft. Then it's about longevity. Some people play for three years, some play for 20 years. I'll adjust as it goes."
Meanwhile, an adjustment could be made back in Eugene, Ore., as well.
If the Ducks' preseason practice schedule ultimately conflicts with an Olympic medal moment for Allen, Helfrich will "find a way" to get the team in front of a TV.
"None of them would miss it," he said.