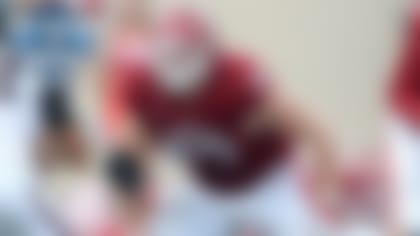 In my estimation, the best interior offensive lineman in the nation will be a guard from Indiana, Dan Feeney. However, the players listed directly behind Feeney include centers who should continue to make names for themselves this season and could become factors in next year's draft. There are also some quality young guards on this list whom we will probably be talking about in this space again next season.
This is not a list previewing the 2017 NFL Draft, but a look at interior linemen that are generating interest from NFL scouts and/or are expected to post big seasons for their teams. Here are 10 to watch in 2016.
1. OG Dan Feeney, Indiana
Feeney will become a four-year starter this season for an offensive line that has helped pave the way for NFL draft picks like Tevin Coleman and Jordan Howard. With long arms and a burly chest, Feeney operates with a decisive, winning punch as a run blocker and in pass protection. His ability to jolt and cave defensive linemen with his down-blocks before climbing up to engage linebackers helped to create plenty of running room for the Hoosiers. Feeney is scheme-flexible and extremely nasty. He has the functional athleticism to handle gap-shooters and twists. I'd like to see him improve in the area of sustaining blocks.
Pocic caught my eye last season as a player to keep an eye on, and his 2015 tape did not disappoint after he made the full-time move to center. While Pocic isn't the strongest center, he's strong enough and his ability to stay engaged with his block against stronger players leads me to believe he'll be just fine in the pros. Pocic is one of the most fluid second-level climbers in college football and understands how to take the best angles to help get the tough blocks on linebackers. Pocic's initial quickness, hand placement and hand strength help to offset some of the leverage issues he'll have at times due to his height (6-foot-7, according to school measurements).
3. C Pat Elflein, Ohio State
Elflein gives maximum effort with each rep and combines very good upper-body strength with plenty of toughness. Elflein keeps his feet driving at contact and showed the ability to generate push against quality competition. NFL teams have been looking for bigger, stronger centers for a while and Elflein looks like he might fit the bill. He's a little stiff in the hips and should be an average athlete as a center, but his experience and consistency should put him near the top of the center list for the 2017 draft.
4. OG Braden Smith, Auburn
When you see the long, tapered torso on Smith, you fully expect to see him playing tackle, but he's a guard and has been a guard dating back to high school. While his 6-6 frame will make him vulnerable to losing leverage to interior defenders at times, he generally plays with good pad level and uses a wide base with consistent leg drive into contact. Smith plays with solid technique and good feet in pass protection. He was outstanding when asked to hit moving targets as a pulling guard.
5. C Brian Allen, Michigan State
He has the tenacity of his brother, Jack (an undrafted free-agent signee of the Saints), but Brian is more flexible and athletic. His upside is likely greater than his big brother's. Brian Allen is switching from guard to his natural center spot, but he proved to be more than capable as a second-team All-Big Ten selection at guard last season. Allen's lack of height and arm length will very likely stymie his draft stock in the future, but that will ultimately benefit the team who steals him. Allen's core strength, balance and hand strength help him overcome his lack of size (6-2, 303), while his second-level movement skills will help him challenge Pat Elflein for the title of Big Ten's best center.
6. C Mason Cole, Michigan
Cole has the talent to man the left-tackle spot for Jim Harbaugh, but he'll be moving inside to center, where he still figures to shine. Cole enters his junior season as a two-year starter at left tackle for the Wolverines. He has the athleticism to get to linebackers at difficult angles and he should be a factor in space as a combination blocker. He can be bull-rushed when he doesn't maintain a wide base, but he has power as a run blocker and should be a scheme fit with all offenses in the pros.
7. OG Dorian Johnson, Pittsburgh
Johnson is slated to start for the third consecutive season at left guard and was recognized as second-team All-ACC last season. Johnson played tackle in high school and still could use a little more meat on his bones. He moves well and is able to excel as an in-line blocker or on the move.
8. OG Martez Ivey, Florida
Ivey's playing time and effectiveness were hindered by a torn meniscus that forced him to miss the early part of last season. He underwent surgery on his shoulder during the offseason. While Ivey might start off playing left guard this season, he has the desired blend of foot quickness, length and mass that scouts want in a tackle at the next level. Ivey's ability to move in space and work to the second level is impressive as is his well-timed punch that helps him land those long arms on his target. If healthy, Ivey should take a big step forward no matter which position he plays.
Pyke has above-average foot quickness and noticeable bounce in his movement when he's able to get out into space as a zone blocker or in the screen game. Pyke is a gritty base blocker who can hold his own against power. He needs to get better at maintaining his blocks through proper hand placement rather than allowing his hands to fly outside. Pyke was benched at one point last season and consistency was an issue at times, but the physical tools are there if he can play with greater balance and improved use of his hands.
It's always difficult to watch Iowa offensive linemen and not get too excited about their pro potential because they are so well-coached as a unit. They tend to have a limited amount of obvious weaknesses. However, you also have to dig deeper. Like with center Austin Blythe last season, Welsh plays with good hand placement, balance and footwork, but he lacks the size (6-3, 288, according to team measurements) that teams typically look for from an interior lineman. Welsh is a talented guard, but his draft stock could be directly related to how much weight he can comfortably carry as he moves forward.