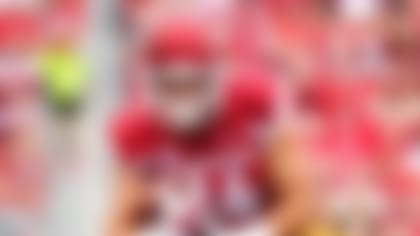 NFL scouts are always looking to the college ranks to find next-level talent, and while it's too early to speculate about which tight ends will thrive in the NFL, these 10 players certainly have the attention of evaluators heading into the 2015 season.
This is not a list previewing the 2016 NFL Draft, but a look at college tight ends that are already generating interest from NFL scouts. Here are 10 to watch in 2015.
1. Hunter Henry, Arkansas
Even as a junior, I believe him to be the best true tight end in college football. The Razorbacks use Henry as an in-line tight end and a move tight end depending on what the offense is trying to accomplish, but unlike most tight ends in college football today, Henry is a willing and able blocker who is an important part of the Razorbacks' power-rushing attack. Henry has good size and is comfortable working the middle of the field. While he can improve his game after the catch, Henry has the potential to be a relatively high-target threat in 2015.
After leading Big Ten tight ends in receptions last season, it is reasonable to expect another jump in production for the athletic tight end. Duzey, a three-year basketball letterman in high school, is a fluid athlete with an ability to accelerate off the line of scrimmage and put slower linebackers in a trailing position. Iowa expects tight ends to be able to block and Duzey needs work in that area, but as a move tight end, he is a difficult matchup down the field.
3. Austin Hooper, Stanford
Hooper is being compared to former Stanford Cardinal and current Indianapolis Colt Coby Fleener, and it is easy to see why. As a first-time starter in 2014, Hooper was a consistent performer relying on a quick release off the line of scrimmage and long strides to create separation in his routes. Stanford QB Kevin Hogan targeted Hooper 56 times last year. With a year of chemistry built between Hogan and Hooper, we could see Hooper challenging for an All-America spot.
4. Bucky Hodges, Virginia Tech
Look out for Hodges because you will be hearing much more about him this season (and in 2016). The sophomore is more H-back than true tight end and was targeted 79 times as a freshman. Hodges is a terrific athlete who can hit turbo to separate from defenders and who can go get the tough catches. Despite transitioning from the quarterback position that he played in high school, Hodges showed clean hands and toughness after the catch. He needs to add more muscle to his frame, but his numbers could be some of the best in the country from this position.
5. Nick Vannett, Ohio State
Vannett looks the part of an NFL tight end with a sturdy frame and long limbs. My intrigue with Vannett, quite frankly, has more to do with what he could become rather than his expected production in Urban Meyer's offense, where tight end production can be spotty. Vannett is a reliable redzone target and needs a little more technique work to take a big step forward as a blocker. With Jeff Heuerman gone, Vannett figures to increase his snap count and continue to prove to NFL talent evaluators why he is one of the best combination tight ends coming out of college football.
I came into my tape study very excited about watching Howard, but came away disappointed. He clearly has the athleticism and seam speed to threaten defenses all over the field, but too often I saw lazy, complacent routes. Still, his talent after the catch and ability to hit the big play from an in-line tight end spot give him a chance to put together a big season with a new quarterback likely to lean on bigger targets like Howard. As a next-level player, Howard must improve his physicality and competitive spirit as a blocker.
7. Steven Scheu, Vanderbilt
After two seasons of background vocals, Scheu emerged as a potential front man for the Vandy offense with 39 catches and four touchdowns including 20 catches and three touchdowns over his final five games. Scheu plays with enough athleticism and play speed to attack safeties down the field, and I love his aggressive demeanor after the catch. Scheu's sticky hands and overall quickness gives him a shot to be one of the most productive tight ends in the SEC.
Engram might very well "out-stat" all of the players on this list, but at 6-foot-3, 228 pounds, it feels strange having Engram on this list since he's more receiver than tight end. Engram can and will run by linebackers who dare to match up to him, and he does an outstanding job of working back to the throw. He will have a new quarterback to work with, but it won't matter because he's too talented a receiver to not get noticed and targeted. NFL evaluators would love to see more weight on him to see if they can project him as a true move tight end.
9. Kyle Carter, Penn State
Taking a shot with this one since Carter has seen his numbers diminish after his outstanding freshman season. Christian Hackenberg's accuracy issues and unwillingness to target Carter haven't helped in the past and might hurt him once again, but I'm expecting a bounce-back year from the Penn State signal-caller. Carter could be the beneficiary thanks to his quickness off the line of scrimmage and ability to get open in space. Hackenberg is never going to have pinpoint accuracy, so Carter must improve his focus, hands and ability to secure tougher catches.
10. Darion Griswold, Arkansas State
Griswold has 52 catches over the previous three seasons and had just one game with more than two catches in 2014, but he's still worth keeping an eye on for sure. Griswold is a little high-cut, but the former All-State basketball player has good overall size and is able to go high and low to vacuum throws that others on this list can't get to. With a decent base as a blocker, Griswold will surely be monitored by NFL scouts who see next-level potential in his game.