In a deep class of draftable college quarterbacks that will include seniors Tajh Boyd, Derek Carr and Zach Mettenberger, and potentially underclassmen such as Johnny Manziel, Teddy Bridgewater and Marcus Mariota, could Alabama's AJ McCarron be the first passer chosen in the 2014 NFL Draft? The college scouting director of an AFC club suggested just that possibility to NFL Media reporter Albert Breer, and compared the fifth-year senior's skill set to New England Patriots quarterback Tom Brady.
Week 14: Things we learned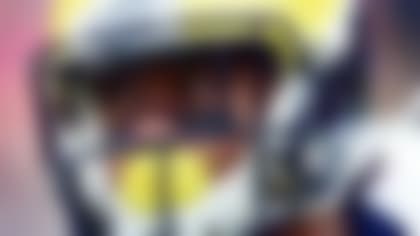 From Jeremy Gallon helping to revive Michigan's offense vs. Ohio State to David Fales outdueling Derek Carr, here are the lessons we learned in Week 14 of college football. More ...
His assessment of the Crimson Tide senior:
"Good size, outstanding touch on all throws, can make all the throws but only has average arm strength. Average running ability but very good feet and movement in the pocket to avoid sacks. Outstanding progression-read quarterback, makes throws to his second and third reads consistently. Doesn't turn the ball over. Winner. Mentally tough. Has the moxie and cockiness most great QBs have. Very similar to Tom Brady in stature, athletic ability, arm strength, touch and the most important category -- wins."
Other scouting personnel have suggested to Breer that McCarron could wind up anywhere from a first-round to a third-round pick, so clearly, not every club in the league is sold on the two-time national championship quarterback. Still, one suggested that McCarron is better than three quarterbacks to go in the first round in recent years: Tennessee's Jake Locker, Jacksonville's Blaine Gabbert and Minnesota's Christian Ponder.
The most common negative among most scouting assessments of McCarron has been his arm strength, which will be heavily scrutinized in the coming months at the Senior Bowl (McCarron's invitation is all but certain), at the NFL Scouting Combine in February, and at Alabama's pro day workout in March.