Mike Huguenin has spent more than 29 years in sports journalism, many of them closely associated with college football. As a longtime Heisman Trophy voter and one who will cast his ballot again at the end of this season, Huguenin takes a weekly look at the Heisman race.
Florida State plays at Clemson this week in a game that will shape both the national title picture and the Heisman Trophy race.
Clemson and FSU look to be miles better than anyone else in the ACC, and the winner of next Saturday's contest puts itself in position to finish unbeaten and possibly play in the final BCS national championship game.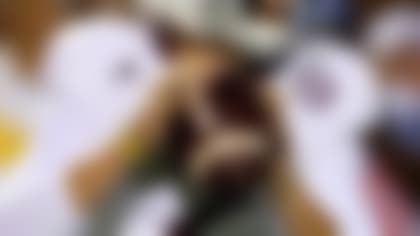 From Johnny Manziel's heroics in a thriller at Ole Miss to Marcus Mariota's dismantling of Washington, here are 37 things we learned from the college football weekend. More ...
The winning quarterback, Clemson senior Tajh Boyd or Florida State redshirt freshman Jameis Winston, would take a huge step toward at least getting to New York for the Heisman presentation. Both are leading candidates already and a big performance in a win would be a huge boost.
UCLA sophomore quarterback Brett Hundley also has a big opportunity -- and a big task. He and the Bruins will play at Stanford, which is coming off its first loss of the season. Hundley can make a big national statement if he can guide the bruins to the upset win.
Here are this week's top 10 contenders, from 10th to first, as this Heisman voter sees them:
10. QB Derek Carr, Fresno State
2013 stats: 372.8 passing yards per game, 19 TDs, 4 interception, 70.7 completion percentage.
Last week: Fresno State had a bye.
The skinny: Carr and the Bulldogs were off this past weekend and get a weak UNLV team next. Carr is the best player on a team that could finish unbeaten, which should garner him attention.
9. QB Sean Mannion, Oregon State
2013 stats: 418.5 passing yards per game, 25 TDs, 3 interceptions, 67.1 completion percentage.
Last week: 34-for-51 passing for 493 yards, 4 TDs, 1 INT; 1 rush for minus-6 yards in 52-24 win over Washington State.
The skinny: Mannion, a junior, leads the nation in passing yards per game by a hefty margin -- by almost 46 yards per game. He has passed for at least 400 yards four times in six games and has reached the 300-yard plateau in every game. His problem: He plays in a league filled with good quarterbacks and isn't going to gain much national notice, even with his stats, unless the Beavers are in the hunt for the Pac-12 title. He should be salivating at the thought of playing defenseless California this coming weekend.
Check out the top images from the seventh weekend of college football play.
8. QB Aaron Murray, Georgia
2013 stats: 304.0 passing yards per game, 17 TDs, 5 interceptions, 62.8 completion percentage, 3 rushing TDs.
Last week: 25-for-45 passing for 290 yards, 3 TDs, 2 INTs, 4 rushes for 5 yards in a 41-26 loss to Missouri.
The skinny: Injury-riddled Georgia fell for the second time this season, losing to Missouri at home, and that basically ended any realistic hopes Murray had of winning the Heisman. Still, he has played at a high level against a challenging schedule, and he did so against Missouri without his top two tailbacks and his top three wide receivers.
7. QB Brett Hundley, UCLA
2013 stats: 293.8 passing yards per game, 12 TDs, 4 interceptions, 68.1 completion percentage, 52.0 rushing yards per game, 3 TDs.
Last week: 31-for-41 passing for 410 yards, 3 TDs, 0 INTs; 9 rushes for 18 yards in a 37-10 win over California.
The skinny: Hundley threw for a career-high 410 yards in a victory over California. He'll have a chance to make a lot of national noise in the next two weeks as the Bruins go on the road to face Stanford (Oct. 19), then Oregon (Oct. 26). Big performances in both could land him in New York as a finalist.
Check out Florida State's new quarterback, "Famous" Jameis Winston, as he emerges as one of college football's new stars.
6. QB Jameis Winston, Florida State
2013 stats: 288.2 passing yards per game, 17 TDs, 2 interceptions, 73.2 completion percentage, 2 rushing TDs.
Last week: Florida State had a bye.
The skinny: Florida State was off but has a huge ACC showdown at Clemson this week. If he can outduel Clemson senior QB Tajh Boyd, Winston could move into the top two on every Heisman list.
5. RB Bishop Sankey, Washington
2013 stats: 149.8 rushing yards per game, 9 rushing TDs, 1 receiving TD.
Last week: 28 rushes for 167 yards and 2 TDs; 5 receptions for 38 yards in a 45-24 loss to Oregon.
The skinny: Sankey ran for 167 yards and two scores against Oregon in a loss. It was the 10th time in Washington's past 12 games that he had at least 25 carries, and it also was his fifth 100-yard game of the season and the fourth time he had run for at least 161.
4. QB Teddy Bridgewater, Louisville
2013 stats: 312.0 passing yards per game, 18 TDs, 2 interception, 71.0 completion percentage.
Last week: 21-for-31 passing for 310 yards, 2 TDs, 1 INT; 7 rushes for 11 yards in a 24-10 win over Rutgers.
The skinny: Bridgewater threw for 310 yards and two TDs in a workmanlike victory over Rutgers. The problem: As talented as Bridgewater is (he seems to be the likely No. 1 pick in the draft if he decides to leave school a year early), the Cardinals basically have played no one. Big numbers are expected each week from Bridgewater. The other problem: When he produces those big numbers, it elicits a yawn and a shrug of the shoulders because of the caliber of competition.
2013 stats: 297.2 passing yards per game, 15 TDs, 2 interceptions, 66.5 completion percentage, 31.2 rushing yards per game, 5 rushing TDs.
Last week: 30-for-44 passing for 334 yards, 1 TD, 0 INTs; 9 rushes for 33 yards and 1 TD in a 24-14 win over Boston College.
The skinny: Boyd threw for 334 yards as Clemson came from behind to beat Boston College, his third consecutive 300-yard game; this marks the first time in his career he has had three 300-yard games in a row. This week's visit from Florida State will be huge in both ACC's national title hopes and Boyd's Heisman aspirations.
Check out Johnny Manziel enjoying his on-the-field success.
2. QB Marcus Mariota, Oregon
2013 stats: 287.3 passing yards per game, 17 TDs, 0 interceptions, 60.6 completion percentage, 71.0 rushing yards per game, 8 TDs.
Last week: 24-for-31 passing for 366 yards, 3 TDs; 13 rushes for 88 yards and 1 TD in a 45-24 win over Washington.
The skinny: Mariota threw for 366 yards and three TDs and ran for 88 and another score as Oregon beat Washington, the Ducks' toughest opponent to date. He has thrown at least one TD pass in all 19 games of his career and has thrown and run for a score in eight consecutive games. He'll be expected to carve up Washington State's defense this Saturday.
1. QB Johnny Manziel, Texas A&M
2013 stats: 305.8 passing yards per game, 14 TDs, 5 interceptions, 73.2 completion percentage, 71.2 rushing yards per game, 5 TDs.
Last week: 31-for-39 passing for 346 yards, 0 TDs, 1 INT; 19 rushes for 124 yards and 2 TDs in a 41-38 win over Ole Miss.
The skinny: Manziel had a big day on the ground in a come-from-behind win at Ole Miss, rushing for a season-high 113 yards and two touchdowns. It was his second 100-yard day of the season. He also threw for 346 yards and completed a season-high 79.5 percent of his passing attempts (31 of 39). A&M doesn't play a marquee foe until it meets LSU on Nov. 23. Manziel must continue to put up big numbers each week against the likes of Vanderbilt, Auburn and UTEP, both to help his Heisman "candidacy" and make sure the defense-shy Aggies win games.
Mike Huguenin can be reached at mike.huguenin@nfl.com. You also can follow him on Twitter @MikeHuguenin.