Florida State redshirt freshman quarterback Jameis Winston retained the top spot in the HeismanPundit.com Straw Poll, and there is only one real challenger this week.
Winston has 24 votes, six more than last week, while Northern Illinois senior quarterback Jordan Lynch is second with 18. Winston was first on seven ballots. Lynch -- who had seven votes last week -- was first on the other three ballots. No other player had more than four votes.
Week 14: Things we learned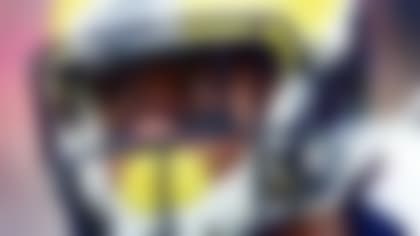 From Jeremy Gallon helping to revive Michigan's offense vs. Ohio State to David Fales outdueling Derek Carr, here are the lessons we learned in Week 14 of college football. More ...
And last year's winner, Texas A&M's Johnny Manziel, is nowhere to be found -- just a few weeks removed from being considered a Heisman front-runner. Manziel failed to garner a single vote from those polled.
Going by the straw poll, it appears as if just Winston and Lynch are guaranteed invitations to the Heisman presentation ceremony Dec. 14.
There were three finalists last season, when Manziel became the first freshman to win the award. There appears to be no way Manziel is even invited this year; the same goes for Oregon QB Marcus Mariota, who was considered a front-runner for much of the season before the losses starting piling up for the Ducks.
There were five finalists in 2011 invited to the New York ceremony, but there have been that many finalists just five times in the past 20 years. There were four finalists in 2010.
Boston College senior tailback Andre Williams -- the nation's leading rusher -- was second with 16 votes last week, but he received only one vote this week and now is tied for seventh.
Each week, HeismanPundit.com polls 10 Heisman voters -- who remain anonymous -- from across the country. Each voter selects three players, first place through third, and points are tabulated like a real Heisman ballot (three points for a first-place vote, two points for a second-place vote and one point for a third-place vote).
Ten players -- seven quarterbacks, two running backs and a defensive tackle -- received votes this week.
Following the top two in the poll this week are Alabama senior quarterback AJ McCarron and Ohio State junior quarterback Braxton Miller with four votes each; Baylor junior quarterback Bryce Petty with three; Mariota and Pitt senior defensive tackle Aaron Donald with two each; and Williams, Ohio State senior tailback Carlos Hyde and Louisville junior quarterback Teddy Bridgewater with one each. Winston, Lynch, Miller, Petty, Hyde and Bridgewater play this weekend.
Winston -- who is involved in a sexual-assault investigation -- was on nine ballots, and Lynch was on eight. No one else was on more than four.
The HeismanPundit.com poll has been the most accurate Heisman gauge in the past seven seasons, with the final 2012 poll correctly picking the top five finishers and the final 2011 poll picking the top seven.
Mike Huguenin can be reached at mike.huguenin@nfl.com. You also can follow him on Twitter @MikeHuguenin.