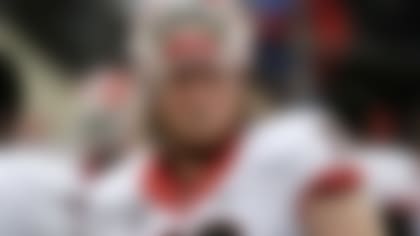 NFL scouts are always looking to the college ranks to find next-level talent, and while it's too early to speculate about which interior offensive linemen will thrive in the NFL, these 10 guards and centers certainly have the attention of evaluators heading into the 2015 season.
This is not a list previewing the 2016 NFL Draft, but a look at college guards and centers that are already generating interest from NFL scouts. Here are 10 to watch in 2015.
Maybe it's my background in an offensive line family, but watching tape of Pyke absolutely made my day! In fairness, I don't live the most exciting life anymore, but when I see a guard mash his opponents with pure power, good footwork and timing on combination blocks -- that makes me happy. Pyke uses quick, choppy steps to get himself in position and then plays with a strong base to lock defenders out. And he loves to scrap on every snap. I'm getting fired up just typing this. He bends at the waist too often and needs to play with a little better pad level, but he's going to open plenty of holes for Nick Chubb this year.
2. Spencer Drango, Baylor
Drango might have played tackle in the past, and he might play tackle this season, but I would be absolutely shocked if he doesn't bump inside thanks to a build and game that screams guard play. Drango plays with some lower-body stiffness, which could eliminate him from tackle consideration, but he uses his hands in pass pro like the veteran tackle he is. Some scouts are already worried about the offensive line misses to come out of Baylor recently, but Drango's mauling, physical style and ability to win as a run blocker must be judged on its own merit.
3. Cody Whitehair, Kansas State
Another offensive tackle who will move inside as a pro. With his burly chest and stocky frame, Whitehair could find happiness as an NFL center, but scouts are excited about seeing him as a guard first. Whitehair has a strong initial punch and does an admirable job of bringing his hips under him at contact to lock out defenders. He plays with a wide base, flat back and strong hands. He reminds me of a more athletic version of former teammate B.J. Finney (center).
Alexander has played guard and tackle, but he is best-suited inside on the next level. Despite his massive frame, Alexander is better than expected at locating and successfully engaging targets on the second level. At the point of attack, Alexander has proven to be too much for many an SEC defensive tackle. Alexander can be a bit of a lunger at times and does too much waist-bending, but the positives far outshine the negatives for this big guy.
The first game I watched for Tuerk was against Stanford and their fire-plug nose tackle David Parry, and Tuerk was good but had to hang on for dear life at times. By the end of the season, Tuerk played with a great understanding of leverage and body control. There is no question that Tuerk has to add more weight and muscle on his frame, but he is as smooth as any interior lineman in the nation at securing his down-block and climbing to the next level. Tuerk has the athleticism to get to just about any block and he plays with well-rounded technique. Big talent, but he needs to keep adding mass to that frame.
6. Joshua Garnett, Stanford
Beefy, rugged guard with a lower body built for moving heavy things (out of the B-gap). Garnett isn't a silky smooth athlete, but he moves well enough to be fully functional in Stanford's diverse blocking scheme. Garnett can match power for power and can be a devastating blocker on an angle. His biggest issue will be in how he handles athletic interior defenders. At times, Garnett will get his weight too far out in front of him, which leads to balance issues against tackles who are gap shooters or who play with plus foot quickness.
7. Nick Martin, Notre Dame
Brother of former Notre Dame tackle and current Dallas Cowboys guard Zack Martin. Solid technician with a good feel for the interior line position. Has played guard and tackle and, despite being a little undersized at guard, more than held his own against bigger talent. Has the quickness to get to difficult cross-face blocks as a center and plays with excellent hand placement and arm extension. He doesn't generate very much push in the running game and has to play with consistent footwork and technique. Rock-solid, reliable player.
8. Pat Elflein, Ohio State
Saw rapid improvement from where he was early in the season. Blocking-sled guard who makes centered contact and churns those feet while generating push to clear the roadways. Plays with desired agility for lateral movement and does a very nice job of seeing twists and picking them up. Elflein was outstanding against Oregon's talented defensive front in the national title game. If he can play with a little more consistency against the quicker interior defenders, he should generate his fair share of NFL interest when the time is right.
9. Isaac Seumalo, Oregon State
Seumalo is worth watching for a few reasons. After missing 2014 with a foot injury, I am intrigued to see how he responds after a year away. It is also worth noting that he will be playing center instead of guard, with center being the more natural fit in the pros. Seumalo has plenty of heft throughout his lower body and into his midsection and he operates with a centered, sure base and with natural upper-body strength. He plays a little upright and doesn't always play with desired leverage. I am expecting to see a more consistent performer with the move to center.
Young comes from NFL bloodlines. His older brother, Willie Young, is a starting defensive end with the Bears, and Panthers long-time stalwart, Thomas Davis, is his cousin. Young did an admirable job at right tackle last season, but he is best-suited inside at guard, which is where he is expected to start this season. Young has a big bubble and is a decent heads-up blocker with the ability to be effective as a short-puller. Young's biggest issues are his lack of bend and his limited change-of-direction ability. His background at tackle should help strengthen his interior pass protection.
Ethan Pocic, LSU: Pocic needs to fill out his frame with more pure mass and improve his core strength, but his length and athleticism are very intriguing with his full-time move to center.
Christian Westerman, Arizona State: Very quick feet with ability to mirror as well as any guard in college football, but I see an athletic guard who lacks the power at the point of attack that scouts will be looking for and a move to center might be warranted.
Jack Allen, Michigan State: Undersized center who can struggle with power players and long arms, but he's started every year he has played for Sparty and has proven to be a steady performer with a high football IQ.