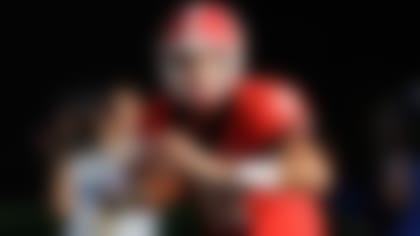 Here's what we learned from Saturday's SEC action:
After last week's high-scoring Georgia loss to Clemson, questions were raised about Bulldogs quarterback Aaron Murray's ability to win big games. Now a senior, one big game he's never been able to win is South Carolina.
Murray led the Bulldogs' 41-30 win over the Gamecocks with a masterful performance, completing 17 of 23 passes for 309 yards, four touchdowns and no interceptions. Murray had never before beaten the Gamecocks, who carried a three-game series win streak into the contest. The win gives Georgia the inside rail in the SEC East race.
Prior to Saturday's big win, Murray was 1-9 against top-15 teams. Against top-10 opponents, he was 1-6.
2. Manziel shines without shenanigans
For Texas A&M quarterback Johnny Manziel, it wasn't so much what he did against Sam Houston State Saturday -- passing for 426 yards in a shade under three quarters -- but what he didn't do in a blowout victory for the Aggies.
No 15-yard personal fouls.
No nationally televised taunts.
No fourth-quarter benching.
Well, actually, he was benched in the fourth quarter. But the circumstances had to do with TAMU's unassailable lead, not Manziel's attitude. For the first time this season, albeit against an opponent that had no chance of an upset, Manziel let his play do all the talking. It was no doubt what coach Kevin Sumlin longed to see even more than another fantastic statistical performance. And it helped to set an all-business tone for the Aggies as A&M turns to the most anticipated game in the Southeastern Conference all season -- hosting Alabama next Saturday.
3. Gators offense has no bite
4. Watch out for Za'Darius Smith
5. Hampton out for two reasons
Hold off on celebrating Vic Hampton's new and improved attitude. South Carolina's top cover man was reportedly withheld from starting against Georgia due to a head injury, but as it turns out, health was not the only reason he missed action against the Bulldogs. Hampton was suspended for the first half of the game for a violation of team rules. The Gamecocks' top NFL draft hopeful at cornerback was indeed limited in practice during the week after sustaining a head injury against North Carolina last weekend. But after nearly being dismissed from the team permanently earlier in his career, his head was at least supposed to be right from an attitude standpoint. Apparently, not quite yet.
Tennessee's pass defense has piled up seven interceptions and seven pass breakups in two games this season. But while six different Vols have picked off at least one pass, the top NFL prospect in the UT secondary -- Byron Moore -- is still in search of one.
It might just be early September, but the intensity of the South Carolina coaching staff is most certainly in midseason form. Assistant coaches Deke Adams (defensive line) and Kirk Botkin (linebackers) nearly brawled on the sideline and had to be separated:
With the way Georgia's offense moved the ball at will all day, it's of little surprise that the South Carolina defensive staff was quick-tempered. Truth is, these sorts of skirmishes aren't terribly uncommon among assistants. They don't often unfurl on national TV, though.
8. How about what we haven't learned?
Four SEC teams we still know almost nothing about: Missouri, Arkansas, Tennessee and Texas A&M. Their schedules are too soft early to really know much about what the 2-0 record each has compiled really means. And by extension, most of the NFL prospects on those teams haven't been tested much, either. All that ends abruptly for two of these teams next week: Texas A&M hosts Alabama, and Tennessee visits Oregon.
A young corps of South Carolina linebackers was completely exploited by Georgia on Saturday, particularly by veteran quarterback Aaron Murray. The Gamecocks' defense will prove to be formidable, but the line and secondary may have to carry the day for now.
A few notable injuries involving some of the top NFL prospects around the SEC from week two:
» Mississippi State starters LaDarius Perkins, Nickoe Whitley and Tyler Russell all sat out a 51-7 rout of Alcorn State.
» Georgia left tackle Kenarious Gates exited his matchup with Jadeveon Clowney early after sustaining an ankle sprain late in the third quarter of the Bulldogs' win.
» LSU All-SEC safety Craig Loston left his game against UAB with an injury. His status is uncertain.
» Heralded Texas A&M freshman receiver Ricky Seals-Jones sat out the win over Sam Houston State with a minor injury.
» Auburn defensive end Dee Ford (knee) did not play against Arkansas State. Ford returned to practice earlier in the week.