Here is a look at each of the 13 SEC games, ranked from worst to best.
13. Murray State at Missouri, Saturday, 7 p.m. ET, Fox Sports PPV
The skinny: After a rough first year in the Southeastern Conference, Missouri opens this season with a tune-up against the Racers. Murray State is well-coached, but isn't likely to put up much of a fight here. Names to watch for the Tigers: QB James Franklin, RB Henry Josey, DL Kony Ealy, DB E.J. Gaines and WR Dorial Green-Beckham.
12. Louisiana-Lafayette at Arkansas, Saturday, Aug. 31 at 4 p.m. ET, FSN
The skinny: Don't think the Sun Belt upstart can't give the Razorbacks all they want here. A close game wouldn't be surprising as new Arkansas coach Bret Bielema unveils a new offense. Look for the best battles to be on the line of scrimmage, where Louisiana-Lafayette's Christian Ringo should get some action against standout Razorbacks center Travis Swanson. ULL center Andre Huval, one of the Sun Belt's best offensive linemen, gets to tangle with 320-pound Arkansas defensive lineman Robert Thomas.
11. Austin Peay at Tennessee, Saturday, 6 p.m. ET, Fox Sports PPV/GSN
The skinny: Cupcake City, but Tennessee's vaunted offensive line, replete with four starters expected to be NFL draft picks at some point, gets to show off early. Volunteers linebacker A.J. Johnson, a Butkus Award watch-lister, makes his season debut as well. And Daniel McCullers, the 350-pound UT nose guard, gets to show how much his conditioning has improved. He got winded at times last year at a much heavier weight, but slimmed down in the offseason.
10. Western Kentucky at Kentucky, Saturday, Aug. 31 at 7 p.m. ET, ESPNews
The skinny: Western Kentucky has two of the Sun Belt Conference's best NFL hopefuls in middle linebacker Andrew Jackson, who weighs in the 260 range, and versatile running back Antonio Andrews. One of the questions about star Kentucky linebacker Avery Williamson (6-1, 238) is how well he can get to the sideline against faster running backs. Andrews can help provide that answer before Kentucky's SEC schedule even commences.
9. Toledo at Florida, Saturday, Aug. 31 at 12:21 p.m. ET, SEC Network
The skinny: Not much resistance here for the Gators, but certainly plenty of potential NFL talent to watch for on the Gators' side. What kind of start will pass rushers Ronald Powell and Dante Fowler get off to? And will they make the day easy for star cornerbacks Marcus Roberson and Loucheiz Purifoy? Remember, standout UF linebacker Antonio Morrison sits this game on suspension.
8. Washington State at Auburn, Saturday, Aug. 31 at 7 p.m. ET, ESPNU
The skinny: When new Auburn quarterback Nick Marshall, with no Division-I quarterbacking experience, throws downfield against the Cougars, seasoned senior Deone Bucannon will be looking for every mistake. Bucannon made over 100 tackles and a team-high four interceptions last season for WASU. Keep an eye on young Auburn left tackle Greg Robinson. When the current crop of outstanding SEC left tackles clears out, Robinson may lead the next group in line.
7. Rice at Texas A&M, Saturday, Aug. 31 at 1 p.m. ET, ESPN
The skinny: Matchup? Who needs a matchup? Johnny Football will make his season debut after serving a suspension in the first half, and the attention of the nation will hang on every snap regardless of opponent. This game might rank a bit higher if Conference USA Defensive Player of the Year and Thorpe Award watch-lister Phillip Gaines, a Rice cornerback, were playing. He'll serve a one-game suspension and miss a chance to lock up with TAMU star receiver Mike Evans (6-5, 225).
6. Alabama vs. Virginia Tech, Saturday, Aug. 31 at 5:30 p.m. ET, ESPN
2013 college football predictions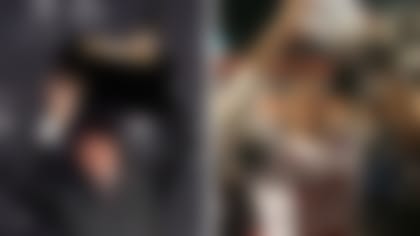 The NFL Draft 365 team kicks off the college football season with our forecast of the 2013 campaign. We predict conference titleists, the national champ, and award winners. More ...
The skinny: For a trenches matchup, look for Virginia Tech linebacker Jack Tyler to get a few good run-ins with Alabama right guard Anthony Steen when the Crimson Tide turns to the running game. On the other side, Alabama linebacker C.J. Mosley, who covers flats and screen passes extremely well, figures to be a thorn for dual-threat quarterback Logan Thomas. When Thomas looks to break the pocket, Mosley will be watching closely. This game will be played at a neutral site in Atlanta.
5. Ole Miss at Vanderbilt, Thursday, Aug. 29 at 9:15 p.m. ET, ESPN
The skinny: Vanderbilt's Andre Hal gets a chance to cover one of the SEC's elite receivers in Donte Moncrief. Vanderbilt coach James Franklin was mum on the question of whether Hal, an All-SEC pick himself, would follow Moncrief all over the field or stay on one side. Something else to watch for: How much double-teaming will star Vandy receiver Jordan Matthews get with the Commodores' other standout receiver, Chris Boyd, out with a suspension? A vaunted freshman Ole Miss class, led by defensive end Robert Nkemdiche, makes its first splash.
4. Mississippi State vs. Oklahoma State, Saturday, Aug. 31 at 3:30 p.m. ET, ABC
The skinny: Two matchups here have significant intrigue for draft fans. Watch for head-to-head battles between OSU defensive lineman Calvin Barnett, a preseason All-Big 12 talent, and Mississippi State guard Gabe Jackson (6-4, 340). That should be a true slugfest in the trenches, but Barnett has a better chance to boost his draft stock than Jackson does. Also watch for Cowboys receiver Josh Lewis working against the MSU secondary, in particular Nickoe Whitley. Because Whitley is a safety, you won't see them locked up on an island. But Whitley will be looking to help in Stewart's direction often. This game will be played in Houston's Reliant Stadium, home of the NFL's Texans.
3. North Carolina at South Carolina, Thursday, Aug. 29 at 6 p.m. ET, ESPN
The skinny: South Carolina star defensive end Jadeveon Clowney gets a nice early test in Tar Heels offensive tackle James Hurst, who is a first-team All-ACC preseason pick. Hurst, at 6-7, has the wingspan needed to contain Clowney, as much as he can be contained. Tar Heels tight end Eric Ebron is an elite talent as well, and he's worth watching against Clowney. Clowney won't be covering him on pass routes, but Ebron may be asked to chip Clowney as a blocker, giving Hurst some assistance while also giving UNC quarterback Bryn Renner a quick release option as Clowney closes in.
2. LSU vs. Texas Christian, Saturday, Aug. 31 at 9 p.m. ET, ESPN
The skinny: Watching TCU quarterback Casey Pachall, a pro prospect with exciting talent, throw into a largely inexperienced LSU secondary (minus senior safety Craig Loston) could be interesting. If it's future NFL running backs you like, it's hard not to enjoy the Tigers' parade of talent in the offensive backfield. Alfred Blue and Kenny Hilliard are pros in waiting, as is Jeremy Hill, but Hill may be suspended by Les Miles. This might be a four-star game if there were a Devonte Fields vs. La'el Collins matchup to watch. The TCU defensive end Fields will be in uniform for the game, but he has been suspended -- there is some speculation coach Gary Patterson will lift the suspension, though. Collins is a gifted young left tackle. This game will be played in AT&T Stadium (home of the NFL's Cowboys) in Arlington, Texas.
1. Georgia at Clemson, Saturday, Aug. 31 at 8 p.m. ET, ABC
The skinny: The only opening-week matchup of top-10 teams will have plenty of future NFL talent on the field. No doubt, Georgia cornerback Damian Swann and Clemson receiver Sammy Watkins get top billing here in terms of individual matchups. Swann is underappreciated, but among the best cover men in the Southeastern Conference. Watkins, coming off a less spectacular season than the one he enjoyed as a freshman in 2011, will be looking to get off to a roaring start. Consider Swann's work against Watkins only part of his test, however, as Clemson quarterback Tajh Boyd can make a challenge of covering anyone. Georgia's secondary is ailing; look for a ton of points scored in this game -- on both sides.