The return of college football is cause for celebration, and the schedule-makers at conferences throughout America have done fans some favors with this opening slate of games.
It kicks off Thursday with Jadeveon Clowney and the South Carolina Gamecocks hosting North Carolina in a cross-conference border war. The weekend full of pigskin concludes with a Labor Day special featuring ACC combatants Florida State and Pitt. In between, there are more than 60 other matchups of varying degrees of attractiveness.
2013 college football predictions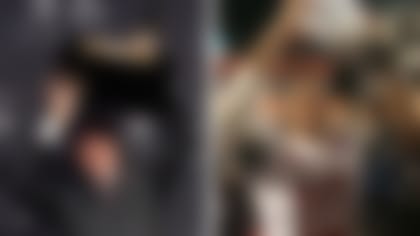 The NFL Draft 365 team kicks off the college football season with our forecast of the 2013 campaign. We predict conference titleists, the national champ, and award winners. More ...
The reporters at NFL Draft 365 were polled to pick the 10 best games of the weekend, using player talent level and big-time individual matchups along with other storylines as the criteria for voting.
We also ranked every game in the six power conferences, from least watchable to most watchable. To view those rankings, use the tabs at the top of this story page.
Here's what we came up with:
10. Rice at Texas A&M, Saturday, 1 p.m. ET, ESPN
The skinny: Matchup? Who needs a matchup? Johnny Football will (presumably) make his season debut after serving a suspension in the first half, and the attention of the nation will hang on every snap regardless of opponent. This game might rank a bit higher if Conference USA Defensive Player of the Year and Thorpe Award watch-lister Phillip Gaines, a Rice cornerback, were playing. He'll serve a one-game suspension and miss a chance to lock up with TAMU star receiver Mike Evans (6-5, 225).
9. Northwestern at California, Saturday, Aug. 31 at 10:30 p.m. ET, ESPN2
The skinny: Sports Illustrated called it "revenge of the nerds," but the smart schools are enjoying unparalleled success on the gridiron. The mission for new Golden Bears head coach Sonny Dykes is to lift Cal into the same rarified air archrival Stanford currently enjoys, while the Wildcats are looking to build on their first bowl win in 64 years. Dykes debuts his spread offense with a true freshman at the controls in quarterback Jared Goff. Cal's new 4-3 defense must contain electric Northwestern running back Venric Mark, but might be without starting middle linebacker Nick Forbes (back).
8. Alabama vs. Virginia Tech, Saturday, Aug. 31 at 5:30 p.m. ET, ESPN
The skinny: This game -- to be played in Atlanta -- looked like it would be one of the best non-conference games of the season back in January. Now? Ehhh. Virginia Tech has been ravaged by injuries and could end up starting its third-string tailback. Trust us: You can't beat Alabama unless you have some semblance of a running game. The Hokies also have injuries at linebacker and in the secondary. This could get ugly. But if Virginia Tech QB Logan Thomas wants to show pro scouts he can bounce back from his bad 2012 season, a solid game against the Tide would be a good start.
7. Florida State at Pittsburgh, Monday, Sept. 2 at 8 p.m., ET, ESPN
The skinny: Pitt moves into the ACC by welcoming in Florida State. Nothing like saying, "Hey, we're glad to be here" like playing host to the league's best program. Pitt needs a huge game from DT Aaron Donald, a big-play machine who will be going against the ACC's best trio of interior linemen (center Bryan Stork and guards Josue Mattias and Tre Jackson). Pitt CBs Lafayette Pitts and K'Waun Williams could make things difficult for ultra-hyped FSU redshirt freshman QB Jameis Winston. Still, it's hard to see Pitt being able to run effectively, which means Panthers QB Tom Savage -- who makes statues look mobile -- could be under siege.
6. Boise State at Washington, Saturday, Aug. 31 at 10 p.m ET, Fox Sports 1
The skinny: For the Huskies to finally get over the seven-win hump, it all comes down to the pass rush. Washington produced 26 sacks and allowed 38 last season, the former average for the FBS (tied for 59th out of 120 teams) and the latter in the bottom 20 nationally. Protection will be the bigger concern against the Broncos, who were without defensive end Demarcus Lawrence (team-high 9.5 sacks last season) when these two met last December in the MAACO Bowl Las Vegas and still brought down Washington quarterback Keith Price four times.
5. Ole Miss at Vanderbilt, Thursday, Aug. 29 at 9:15 p.m. ET, ESPN
The skinny: Vanderbilt's Andre Hal gets a chance to cover one of the SEC's elite receivers in Donte Moncrief. Vanderbilt coach James Franklin was mum on the question of whether Hal, an All-SEC pick himself, would follow Moncrief all over the field or stay on one side.
4. Mississippi State at Oklahoma State, Saturday, Aug. 31 at 3:30 p.m. ET, ABC
The skinny: Two matchups here have significant intrigue for draft fans. Watch for head-to-head battles between OSU defensive lineman Calvin Barnett, a preseason All-Big 12 talent, and Mississippi State guard Gabe Jackson (6-4, 340). That should be a true slugfest in the trenches, but Barnett has a better chance to boost his draft stock than Jackson does. Also watch for Cowboys receiver Josh Lewis working against the MSU secondary, in particular Nickoe Whitley. Because Whitley is a safety, you won't see them locked up on an island. But Whitley will be looking to help in Stewart's direction often.
3. North Carolina at South Carolina, Thursday, Aug. 29 at 6 p.m. ET, ESPN
The skinny: The season kicks off with a bang. North Carolina senior OT James Hurst can make himself some money if he can keep South Carolina junior DE Jadeveon Clowney somewhat under control. North Carolina's offense, which features star power in QB Bryn Renner, TE Eric Ebron and WR Quinshad Davis, will be one of the two best in the ACC. The defense, though, is a huge concern. Can the Heels slow South Carolina's rushing attack? If not, it will be a long night, even with all that offensive firepower. And look for the Gamecocks to attack UNC FS Tre Boston, who too often takes unnecessary chances.
Top 10 Heisman candidates
Gil Brandt reveals a number of qualified contenders capable of preventing Texas A&M quarterback Johnny Manziel from winning back-to-back Heisman Trophies. More ...
2. LSU vs. Texas Christian, Saturday, Aug. 31 at 9 p.m. ET, ESPN
The skinny: Watching TCU quarterback Casey Pachall, a pro prospect with exciting talent, throw into a largely inexperienced LSU secondary (minus senior safety Craig Loston) could be interesting. If it's future NFL running backs you like, it's hard not to enjoy the Tigers' parade of talent in the offensive backfield. Alfred Blue and Kenny Hilliard are pros in waiting, as is Jeremy Hill, but Hill may be suspended by Les Miles. This might be a three-star game if there were a Devonte Fields vs. La'el Collins matchup to watch. The TCU defensive end Fields will be in uniform for the game, but he has been suspended -- there is some speculation coach Gary Patterson will lift the suspension, though. Collins is a gifted young left tackle.
1. Georgia at Clemson, Saturday, Aug. 31 at 8 p.m. ET, ABC
The skinny: The best non-conference game of the season comes in Week 1. Two teams in the preseason top 10, loaded with skill-position talent and with top-flight senior quarterbacks -- and two teams with questionable defenses. It should be a high-scoring shootout. Clemson WRs Sammy Watkins and Martavis Bryant need to have big games against Georgia's secondary. Outside of Bulldogs CB Damian Swann, Clemson QB Tajh Boyd should feel free to pick on that secondary. The flipside: Clemson's secondary is shaky, too. Sophomore FS Travis Blanks must play well. Georgia's rushing attack likely will prove too much for Clemson.