Chris Davis' return of a missed field goal attempt in Auburn's miraculous victory over Alabama will lead to a shakeup atop the BCS standings Sunday night. Florida State is likely to be first, followed by Ohio State in second and Auburn in third.
Week 14: Things we learned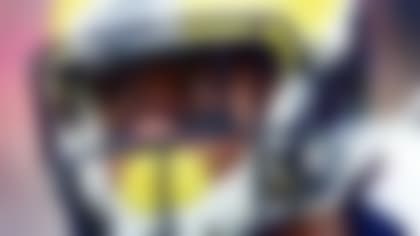 From Jeremy Gallon helping to revive Michigan's offense vs. Ohio State to David Fales outdueling Derek Carr, here are the lessons we learned in Week 14 of college football. More ...
While Auburn will be closer in the BCS to Ohio State than it was this week, the Tigers are not going to pass the Buckeyes -- despite their win over the Tide. Ohio State was .0964 points ahead of Auburn last week, an enormous amount at this point in the season.
Florida State (12-0) and Ohio State (12-0) are the only major-conference teams with unbeaten records. Each will play in its league title game next Saturday: FSU against Duke (10-2) for the ACC title and Ohio State against Michigan State (11-1) for the Big Ten title. Wins by the Seminoles and Buckeyes next week mean they will meet in the final BCS championship game.
Ohio State's game appears vastly tougher than FSU's. Michigan State has the best defense in the Big Ten, one that shut down a Michigan offense that torched Ohio State on Saturday. But Michigan State's offense has been inconsistent, and as good as Michigan State's defense has been, Ohio State is going to move the ball and score some points on the Spartans. Thus, upset hopes for Michigan State ultimately depend on its offense's production.
Missouri beat Texas A&M on Saturday night to clinch the SEC East title and a spot in the SEC championship game opposite Auburn. Auburn (11-1) should be fourth in the BCS standings. That means Mizzou still has a shot at playing for the national title, too. A win over Auburn and a loss by Florida State or Ohio State almost certainly would put Mizzou into the BCS championship game.
Here's a look at the projected BCS matchups:
» National championship game: Florida State (ACC champ) vs. Ohio State (Big Ten champ).
» Fiesta Bowl: Oklahoma State (Big 12 champ) vs. Northern Illinois (automatic non-AQ bid).
» Orange Bowl: Alabama (at-large pick) vs. Clemson (at-large pick).
» Rose Bowl: Michigan State (at-large pick) vs. Stanford (Pac-12 champ).
» Sugar Bowl: Auburn (SEC champ) vs. UCF (AAC champ).
Mike Huguenin can be reached at mike.huguenin@nfl.com. You also can follow him on Twitter @MikeHuguenin.