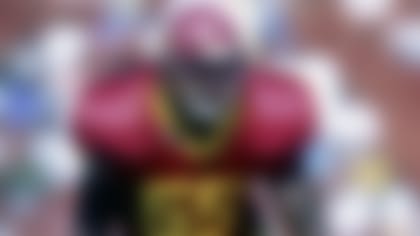 The best teams in the NFL are stacked at linebacker.
That points to the value of the position, and with that in mind, College Football 24/7 has looked back over the past 25 years to determine which college program deserves the "Linebacker U" title.
We looked at the past quarter-century of drafts (since 1989) to see which linebacker pipeline has produced the best players at the position. The top two on our list are nasty in-state rivals -- not because they had the most linebackers drafted, but rather because they produced more high-level 'backers than anyone else.
Here is the top 10 (well, it's really a top 11 since there is a tie at No. 10):
Take a look ahead to the 2014 college football season with the most intriguing pass rushers to follow this fall.
Draft picks the past 25 years: 13, including Larry Foote, Ian Gold, David Harris, Victor Hobson, Dhani Jones and LaMarr Woodley.
The skinny: Frankly, there haven't been as many draftees as you'd expect from a program like Michigan. But Woodley has been a top-level pass rusher. Foote and Harris hit it big, too.
Draft picks the past 25 years: 15, including Dont'a Hightower, C.J. Mosley, DeMeco Ryans, Dwayne Rudd, Derrick Thomas and Courtney Upshaw.
The skinny: Let's just say it is more glitz than glamour. Hightower and Mosley are recent first-rounders who need to produce to the levels of Rudd, Ryans and especially Thomas. That's a potent trio, to be sure, but truth be told, there's not much else. Rolando McClain, a first-rounder in 2010, is coming out of retirement after being traded from the Raiders to the Cowboys on Tuesday.
Draft picks the past 25 years: 23, including Na'il Diggs, A.J. Hawk, James Laurinaitis, Ryan Shazier, Steve Tovar and Matt Wilhelm.
The skinny: The Buckeyes have had more high-profile first-round busts at linebacker -- Bobby Carpenter, Vernon Gholston, Andy Katzenmoyer and Craig Powell come to mind quickly -- than anybody. They also have some guys that have enjoyed productive NFL careers, highlighted by Hawk and Laurinaitis. There are big expectations for Shazier, a first-rounder by the Pittsburgh Steelers this year. This list does not include Mike Vrabel, who was listed as a defensive end when he was drafted but ended up as a good NFL linebacker.
Draft picks the past 25 years: 17, including Jon Bostic, Channing Crowder, Jermaine Cunningham, Andra Davis, Jeremy Mincey, Mike Peterson, Brandon Siler and Brandon Spikes.
The skinny: Florida has produced just one first-round linebacker in our time frame -- Huey Richardson, who was a bust. But the Gators have produced a number of guys who have had/are having productive NFL careers. The list does not include Jevon Kearse, a star 'backer at Florida who was drafted as a defensive end. And while Mincey played end at Florida and also in the NFL, he was drafted as an outside linebacker.
Draft picks the past 25 years: 12, including Rosevelt Colvin, Ryan Kerrigan, Chike Okeafor, Shaun Phillips and Anthony Spencer.
The skinny: Quality over quantity here. Just two first-rounders (Kerrigan and Spencer), but a high percentage of guys who produced, especially as pass rushers.
Draft picks the past 25 years: 10, including Akeem Ayers, Anthony Barr, Brandon Chillar, Donnie Edwards, Jamir Miller, Marvcus Patton, Roman Phifer and Robert Thomas
The skinny: Not many draftees, but a lot of big-time linebackers. Thomas was a first-rounder, though he didn't live up to expectations. But Chillar, Edwards and Phifer, among others, exceeded expectations. Barr, drafted in the first round this year, has a high ceiling.
Draft picks the past 25 years: 23, including LaVar Arrington, NaVorro Bowman, Andre Collins, Dan Connor, Sean Lee, Paul Posluszny and Brandon Short.
The skinny: Penn State isn't the "Linebacker U" it used to be, but it still has produced some notable 'backers of late. Posluszny is a tackle machine. Bowman is a star. Lee has been a solid player for Dallas, but is injured and will miss 2014. Arrington and Collins enjoyed good careers.
Draft picks the past 25 years: 17, including Boss Bailey, Kendrell Bell, Charlie Clemons, Akeem Dent, Randall Godfrey, Justin Houston, Jarvis Jones, Mo Lewis, Alec Ogletree, David Pollack, Odell Thurman and Will Witherspoon.
The skinny: There's not the sheer star power of some others, but there also are a lot of highly productive 'backers. Houston is a big-time sack guy. Witherspoon has been a solid starter for a while -- Bailey, Bell, Clemons and Godfrey were the same. Jones and Ogletree were first-rounders in 2013. An injury ruined Pollack's career after he was a first-rounder.
Draft picks the past 25 years: 23, including Chris Claiborne, Brian Cushing, Clay Matthews, Kaluka Maiava, Rey Maualuga, Willie McGinest, Nick Perry, Keith Rivers, Junior Seau, Malcolm Smith and Lofa Tatupu.
The skinny: A lot of draftees and a lot of star power, most notably McGinest and Seau, two of the best linebackers of their generation. Cushing, Maiava, Maualuga and Matthews were selected in the same draft (2009). Claiborne and Rivers were first-rounders that never quite lived up to expectations, but still were/are solid NFL players
Draft picks the past 25 years: 21, including Jessie Armstead, Micheal Barrow, Jon Beason, Ray Lewis, Colin McCarthy, Rocky McIntosh, Dan Morgan, Darryl Sharpton, Darrin Smith, Jonathan Vilma, Nate Webster and D.J. Williams.
The skinny: Quantity and quality. Lewis is one of the best linebackers in NFL history. Armstead was a late-round pick who hit big. Beason, Vilma and Williams were first-rounders that have played well. The well has run a bit dry of late, though, with no true standout drafted since 2007 (Beason).
Draft picks the past 25 years: 28, including Peter Boulware, Derrick Brooks, Sam Cowart, Henri Crockett, Geno Hayes, Marvin Jones, Tommy Polley, Ernie Sims, Lawrence Timmons, Bjoern Werner, Vince Williams, Reinard Wilson and Kamerion Wimbley.
The skinny: A ton of star power and also numerous mid-level talents that enjoyed productive careers. Brooks is one of the best linebackers in NFL history. Yes, a few of the first-rounders (Sims and Wilson come to mind) didn't live up to all the expectations, but FSU has produced a deep, deep group of linebackers who performed at a high level. The Seminoles get the nod over rival Miami because they have produced better linebackers of late.
Mike Huguenin can be reached at mike.huguenin@nfl.com. You also can follow him on Twitter @MikeHuguenin.