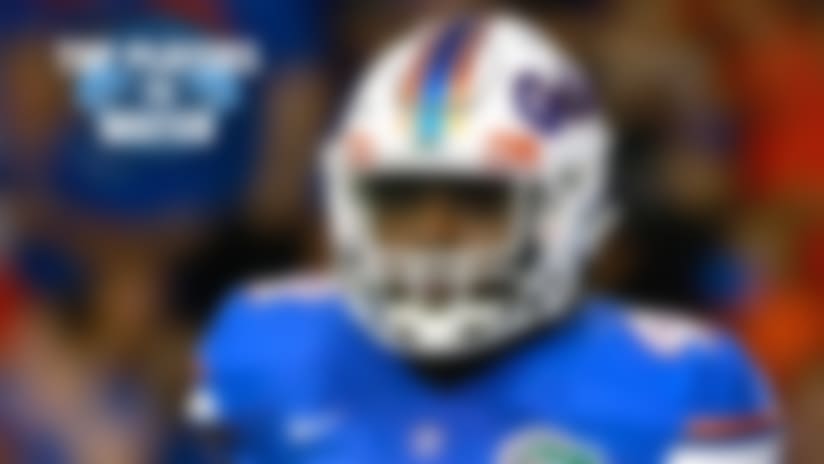 The 2016 season is shaping up as a strong one at the linebacker position. The SEC and Big Ten have most of the top linebacker prospects. Keep in mind that in today's NFL, linebackers with speed and cover skills are getting pushed ahead of the big thumpers.
This is not a list previewing the 2017 NFL Draft but a look at linebackers that are generating interest from NFL scouts and/or are expected to post big seasons for their teams. Here are 10 to watch in 2016.
Production matters, and there will be players lower on this list that have been more productive than Davis. With that said, NFL evaluators are looking for production, traits and talent. Scouts always try to project what a player will be with more coaching at the next level. While Davis was definitely productive last season, his traits and talent are the reason he's No. 1 on this list. Davis is a long linebacker with incredible sideline-to-sideline range and he accelerates into his tackles for maximum force. His explosiveness also makes him a quality blitzer. One area of concern for Davis is his inconsistency as a tackler. Davis' speed and aggressiveness have to be harnessed when he's on the move and he has to cover ground with more patience to avoid overrunning potential tackles.
2. Raekwon McMillan, Ohio State
As expected, McMillan hit the 100-tackle mark (119) after his move inside for the Buckeyes last season. McMillan does a great job of keeping his eyes glued to his target while sifting through moving bodies to get to his man. McMillan is athletic with plus play quickness to outrace blockers to the spot. Another area of strength for McMillan that is getting plenty of attention from the scouting community is his ability to cover out of the backfield. Former teammate Darron Lee saw a bump in his draft stock thanks to his potential to excel in sub packages and McMillan has that same potential.
3. Anthony Walker, Northwestern
It isn't easy to finish a season with 122 tackles, as Walker did last year. To get to that number, a player has to stay healthy, but he also has to play with great instincts, quickness and football IQ. It helps if he can handle himself in space against the pass as well. Walker can do all of the above. He's not the biggest linebacker (6-foot-1, 235 pounds, according to school measurements), but he has a thick, powerful lower body to help him hold up to the rigors of his position. Walker also has quick change-of-direction talent and an ability to access a second gear quickly in order to chase down ball carriers who think they can turn the corner on him. Walker is quick to race downhill and disrupt the flow of running plays, which helps to account for the fact that 25 percent of his tackles were made on plays where the offense gained two yards or fewer.
4. Reuben Foster, Alabama
On a team loaded with NFL talent last season, including a thumping inside linebacker in Reggie Ragland, Foster still managed to stand out. In fact, there are some scouts that believe Foster will be a more complete linebacker than Ragland based on his ability to cover in the passing game. Foster has a densely packed frame with a neck that looks more like a quadriceps. SEC running backs and climbing offensive linemen will let you know that he packs a punch when he hits. With Alabama's ability to generate pressure, there has been no need to use Foster as a blitzer, but he has the burst to blitz and to chase sideline to sideline.
5. Zach Cunningham, Vanderbilt
Cunningham plays the game downhill. He took a redshirt his freshman year to add some much-needed weight to his frame and it paid off in a big way two years later as he put together one of the most impressive seasons of any linebacker in the nation in 2015. Cunningham plays with advanced awareness and instincts. He takes precise routes to ball carriers. More than 36 percent of his tackles were made within two yards of the line of scrimmage. At a position where production can be heavily scrutinized, Cunningham also forced four fumbles and recovered three. While the SEC is loaded at the linebacker position, it's hard to envision Cunningham not grabbing a first-team All-SEC nod.
6. Jalen Reeves-Maybin, Tennessee
Reeves-Maybin, a senior, has played with consistency over his last two seasons while showing improvement in areas that should make him a scouting favorite. Reeves-Maybin is listed at 6-0, 230. He's on the smaller side and that could hurt his stock, but he'll likely extend his streak of seasons with 100-plus tackles to three in 2016 and it's impossible not to love his combination of athleticism and instincts. He has an innate feel for where running backs are headed and how to get to them. With outstanding coverage traits and an ability to get home as a blitzer, Reeves-Maybin should be a shining star for the Vols' defense this season.
7. Jabrill Peppers, Michigan
Peppers will be making the move from safety to strong-side linebacker this year, which should help his stock. Peppers is well-built and should be able to carry more mass on his frame. We already know he can run and cover. Peppers will be considered a third-down factor with coverage versatility, which is what NFL teams look for from linebackers in today's game. While Peppers plays with good instincts and should be in position for 80-plus tackles this season, he has a tendency to duck his head into his tackles and will need to improve his form now that he'll be called on to be more of a finisher around the line of scrimmage.
8. Malik Jefferson, Texas
Jefferson enters 2016 as a true sophomore, so he won't be draft-eligible until 2018 at the earliest. However, he belongs on this list given his traits and upside. Jefferson has an athletic, muscular frame and the speed to get to the ball with much more frequency in 2016. There were times during his freshman season where it was clear that Jefferson's head was swimming and he was thinking more than reacting, but that should be less of an issue in his second season. If Jefferson plays a more instinctive brand of football, he'll be able to utilize his talent for many more impactful plays. Look for an All Big-12 season from Jefferson.
This rating represents what some scouts around the league think about Beckwith more than my personal opinion. Beckwith doesn't have the speed and short-area quickness that we're growing accustomed to seeing at the linebacker position in the NFL, but he's the type of thick, interior thumper that 3-4 defenses search for. Beckwith's lack of short-area agility will lead to a few missed tackles, but when he gets his target locked in, he usually finishes. Beckwith is also a solid blitzer.
Jewell has two things that will stand out to scouts when they talk about him with their general managers -- instincts and production. Jewell was a lightly recruited four-sport star as a high schooler in Iowa, and he was also a little undersized. Since those days, he's maintained his quickness and now has more thud to go with those elite instincts. Jewell finished 2015 with a team-high 126 tackles and four interceptions. As a junior, he needs to prove to scouts that he can put another strong season on tape and continue the work of convincing evaluators he's much more than a try-hard guy.