Florida running back Matt Jones will miss the rest of the season due to a knee injury sustained against LSU Saturday, according to UF coach Will Muschamp.
Jones' injury was initially thought to be a sprain, but was later diagnosed as a torn meniscus. Jones was the Gators' leading rusher with 292 yards. But his season had barely gotten started before it ended, as he missed UF's first game with a viral infection, and according to Muschamp, wasn't fully healthy until a Week 4 win over rival Tennessee.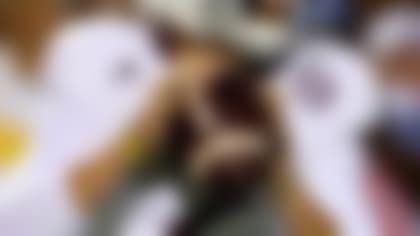 From Johnny Manziel's heroics in a thriller at Ole Miss to Marcus Mariota's dismantling of Washington, here are 37 things we learned from the college football weekend. More ...
"Very unfortunate," Muschamp said, according to floridatoday.com. "I hate it for Matt going through what he's been through this fall. ... Again, we've got man down, man up -- we recruited well at the position."
UF has been beset by injuries all year, including a season-ending knee injury to star defensive tackle Dominique Easley, but it's been on the offensive side of the ball where the injuries have struck most. Other offensive starters out for the season for UF include quarterback Jeff Driskel and offensive lineman Chaz Green. Reserve receiver Andre Dubose, like Green, was also lost for the year in the preseason.