Florida defensive lineman Damien Jacobs added some pre-game spice to the Gators' matchup with Arkansas Saturday, suggesting that the Razorbacks' offensive line doesn't play clean football. In particular, Jacobs cited one of Arkansas' top NFL prospects in center Travis Swanson.
Things we learned in Week 5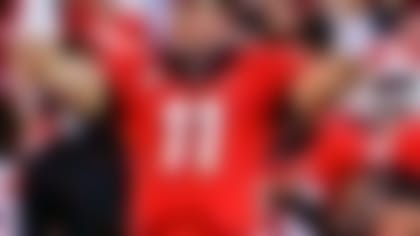 From Georgia's thrilling victory over LSU to USC's loss that got Lane Kiffin fired, here are 43 things we learned about Week 5 in college football. **More ...**
"They're real physical," Jacobs said, according to the Orlando Sentinel. "I think they're a little chippy. They're a little dirty. So we're going to have to be ready for it all this week. ... I just see, from film, a lot of stuff after the play, especially with the center, No. 64. He's a good athlete after the play. He makes you want to do something to him. We're gonna have to try to keep our temper and keep cool on that."
Swanson, a preseason All-SEC center, has led the blocking for one of the most effective rushing attacks in the Southeastern Conference this season. Arkansas averages 237 rushing yards per game, primarily with a pair of standout rushers in freshman Alex Collins and sophomore Jonathan Williams. The two already have combined for more than 1,000 yards this season.
Look for Swanson and Jacobs to reconcile the matter on their own. The game begins at 7 p.m. ET Saturday on ESPN2.