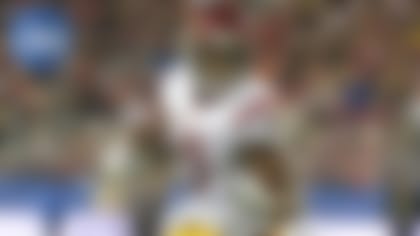 Editor's note: NFL Media analyst and former NFL scout Daniel Jeremiah takes a "first look" at college football's top players for 2016. This is the sixth in a series of scouting reports that will run throughout the offseason.
USC has produced several NFL receivers in recent years. Robert Woods, Marqise Lee and Nelson Agholor put up monster numbers for the Trojans and were each selected in the top two rounds of the NFL draft. JuJu Smith-Schuster is next in line at the position for the Trojans. He has put up big numbers in his first two college seasons and I don't anticipate any dropoff in his production this fall, despite the presence of an inexperienced QB. I've seen him play live several times and I recently had a chance to dig in and study three of his games on tape. Here are my thoughts.
JuJu Smith-Schuster, junior WR, USC
Height, weight: 6-foot-2, 220 pounds (school measurements)
2015 statistics: 89 catches for 1,454 yards (16.3 average) and 10 touchdowns.
Game tape watched: Notre Dame (Oct. 17, 2015), Oregon (Nov. 21, 2015), Wisconsin (Dec. 30, 2015)
What I liked: Smith-Schuster plays wide receiver with a defender's mentality. He has a thick, muscular build. He plays with strength and aggression. He uses his upper-body strength to power through press coverage and knows how to wall off defenders down the field. He flashes the ability to make special catches and he tracks the ball naturally. He is very adept at stacking defenders once he gets by them, allowing the quarterback a lot of room to place the ball. He is a hands-catcher, rarely allowing the ball to get into his body. After the catch, he is very physical and difficult to get on the ground. While he lacks elite speed, he has a powerful stride and he can produce big plays on a consistent basis. He takes pride in his blocking and is a big asset in the running game. His production speaks for itself.
Where he needs to improve: He needs to be more efficient at the top of his routes. He is very natural on runaway vertical routes -- go routes, post routes, deep-over routes (see this play vs. Wisconsin in the Holiday Bowl). However, he's not efficient with his footwork at the break point when he's working back downhill. If he can sink his hips and doesn't get too high entering into the break point, he'll improve this area of his game. Drops were an issue for him in the games I studied. He has strong hands but his concentration can wane at times. He is the featured pass-catcher in this offense, so there will be some drops due to the high volume of targets. I don't worry about his hands, but he can improve in this area.
Biggest takeaway: Smith-Schuster has areas he needs to refine, but I love his overall toughness and competitiveness. Trojan fans won't like this, but I see a lot of former Notre Dame WR Michael Floyd in his play. Both guys have thick, muscular builds and play a very physical brand of football. He is already a great player, and he hasn't come close to reaching his ceiling. The future is very bright for Smith-Schuster.
I can't wait to see him play ... Stanford on Sept. 17. The Trojans have arguably the toughest schedule in college football. They open against defending-national-champion Alabama and also square off against Stanford, Oregon, Washington, UCLA and Notre Dame. Each of these opponents will present a big challenge, but the one that I'm looking forward to the most is the annual battle against Stanford. This is always a very physical contest and it will be up to Smith-Schuster and the USC offense to keep pace with a very explosive Stanford group, led by Christian McCaffrey.