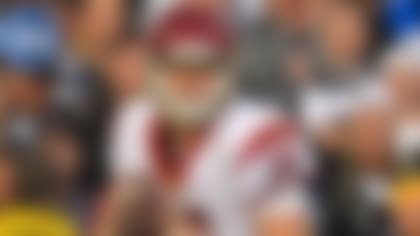 Editor's note: NFL.com analyst and former NFL scout Daniel Jeremiah takes a "first look" at college football's top players for 2017. This is the first in a series of scouting reports that will run throughout the offseason.
I love this time of the year. After a respite following the 2017 NFL Draft, it's time for me to start watching some tape on next year's top college football players. I've peeked at several of these top players while studying their teammates or opponents leading up to this year's draft, but this is the first time I'm truly putting them under the microscope and taking notes on their play. The first player up for this year's First Look series: USC QB Sam Darnold, who's already generating plenty of buzz in NFL circles.
Click through tabs above to see other scouting reports.
Sam Darnold, redshirt sophomore QB, USC
Height, weight: 6-foot-4, 225 pounds (school measurements)
2016 statistics: 246-of-366 (67.2 percent) for 3,086 yards, 31 TDs, and 9 INTs
Game tape watched: Utah (Sept. 23, 2016), Colorado (Oct. 8, 2016), Washington (Nov. 12, 2016), every pass attempt on third down with 6 or more yards to go (I also saw him play live vs. Penn State in the Rose Bowl).
What I liked: Darnold has an ideal blend of size, arm strength and playmaking ability. USC's offense has its share of bubble screens, but I've seen Darnold read the entire field, anticipate windows and fit balls into tight spots. He's an explosive thrower. He generates a lot of torque from his hips and the ball jumps out of his hand. He has also shown the ability to throw with a deft touch in the red zone (see touchdown vs Washington). His ball placement has been impressive at all three levels. His overall decision making has been excellent for an inexperienced passer and he avoids taking unnecessary sacks.
His ability to avoid pressure, extend plays and keep his eyes downfield generated a lot of big plays in the games I studied. I love his no-flinch attitude in pressure situations (see Rose Bowl) and his even-keeled personality is a good fit for the position.
Where he needs to improve: Much will be made about Darnold's long delivery. I'm not quite as worried about it as some other evaluators. I've seen him tighten it up when bodies are around him, and while I do agree it's a long release, it isn't monotone or sluggish like Byron Leftwich's. Russell Wilson has a similar release. Wilson drops the ball down below his waist but it's an explosive movement and the ball comes out quick. It's much the same for the USC QB.
Darnold needs to improve his ball security as a runner and when he extends plays. He can get careless at times (see Colorado game). His overall ball placement has been very good but he did miss a few deep balls earlier in the season. He should continue to improve in this area with more playing time.
Biggest takeaway: I don't want to get carried away with one season of production, but Darnold is a special talent. He has a lot of similarities to Andrew Luck when Luck was at Stanford. They have a similar frame and athleticism. They both seem to be at their best in crucial situations. I know one Pac-12 coach (Jim Mora) has compared Darnold to Tony Romo and I do see some of that, as well. They both have tremendous poise and their natural instincts take over when the called play breaks down.
I can't wait to see him play ... Stanford on Sept. 9. The Trojans will be the talk of the Pac-12 entering the 2017 campaign, but Stanford is coming off a 10-win season and returns a lot of talent on the defensive side of the ball. Darnold didn't start against the Cardinal last fall, and I'm anxious to see how he performs against one of the top secondaries in college football.