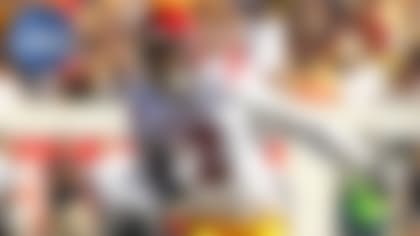 Editor's note: NFL Media analyst and former NFL scout Daniel Jeremiah takes a "first look" at college football's top players for 2016. This is the 13th in a series of scouting reports that will run throughout the offseason.
Adoree' Jackson is arguably the most athletic player in college football. He has been a dynamic player in all three phases of the game (offense, defense and special teams), and football might not even be his best sport. He has won back-to-back Pac-12 titles in the long jump, and narrowly missed qualifying for the U.S. Olympic Team a few weeks ago. I've seen him play live on several occasions, but I've just recently had a chance to study his play on tape. Here's my scouting report.
Adoree' Jackson, junior (CB, WR, return specialist), USC
Height, weight: 5-foot-11, 185 pounds (school measurements)
2015 statistics: 35 tackles (22 solo), 1 interception, 8 pass breakups, 1 forced fumble. Twenty-seven catches for 414 yards (15.3 average), 2 touchdowns. Twenty-four punt returns for 251 yards (10.5 average), 2 TDs. Thirty kickoff returns for 690 yards (23 average).
Game tape watched: Notre Dame (Oct. 17, 2015), California (Oct. 31, 2015), UCLA (Nov. 28, 2015)
What I liked: I'll break this down by the positions he plays for the Trojans. At cornerback, Jackson has quick feet and he's very fluid when he opens his hips. He has recovery speed and good ball awareness down the field. He is very competitive in the run game -- he fights through blockers to pursue the football. As a receiver, he is electric after the catch. He has produced several long TDs over the last two years and makes it look easy. The above play against Notre Dame is a good example of his "easy" speed. As a returner, he tracks the ball easily and he's very elusive. He shows excellent vision, toughness and top speed. He has TD production as a punt returner and a kickoff returner.
Where he needs to improve: Jackson is ultra athletic, but he gives up too many plays as a cornerback because of his inconsistent focus and technique. He really struggled against wide receiver Will Fuller (a first-round pick of the Houston Texans this year) in the Notre Dame game last season. On the first snap of the game, he got caught peeking in the backfield and let Fuller get by him for a 75-yard TD. He was beat over the top two other times by Fuller in that game, with one resulting in a pass-interference penalty and the other in a long reception. His eye discipline has been an issue in other games, too. Also, he rarely uses his hands to re-route wide receivers when he's in press coverage. Against most opponents, he has enough speed and agility to recover but this needs to be cleaned up. As a receiver, he has good hands, but most of his targets come on bubble screens and quick flat routes. He isn't asked to run a variety of routes. He's an explosive athlete, but it would take a lot of development for him to play receiver at the next level. He simply doesn't have a lot of experience.
Biggest takeaway: Athletically, Jackson reminds me of the Cincinnati Bengals' Adam Jones, especially as a returner. Both players are very instinctive, elusive and explosive. However, Jones was more polished and productive as a corner in college. At Pac-12 Media Days last week, Jackson said his offensive role would be limited this fall. That's a smart move for his development. I love Jackson's versatility, but I think he will benefit from focusing primarily on defense. He has ideal physical traits to excel at that spot, but he needs to clean up his technique. He is already an elite returner and has the potential to be one of the top cornerbacks in the country.
I can't wait to see him play ... Alabama on Sept. 3. New defensive coordinator Clancy Pendergast is known for letting his cornerbacks play a lot of man coverage without much help over the top. I can't wait to see Jackson line up across from Calvin Ridley (Jackson said he would welcome that challenge) and battle one of the most explosive receivers in the country. Jackson struggled against an elite speedster (Fuller) last fall, but he could redeem himself by shutting down Ridley.