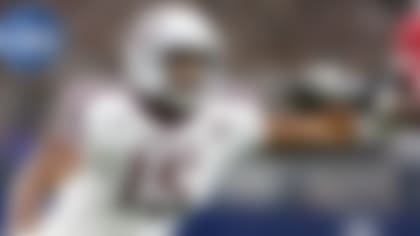 Editor's note: NFL Media analyst and former NFL scout Daniel Jeremiah takes a "first look" at college football's top players for 2016. This is the third in a series of scouting reports that will run throughout the offseason.
One of my favorite games to watch during the lead up to this year's NFL draft was the 2015 matchup between Ole Miss and Texas A&M. I viewed Ole Miss' Laremy Tunsil as the top player in the draft and I wanted to see him tested by an elite pass rusher. I had heard a lot about Texas A&M's Myles Garrett, but I hadn't really studied him. That game was my first exposure to Garrett, and it was a fantastic battle between two rare talents. They both had wins and losses -- it was an impressive matchup. I went back and re-watched that contest as well as two others from last season for this post.
Myles Garrett, junior DE, Texas A&M
Height, weight: 6-foot-5, 262 pounds (school measurements)
2015 statistics: 59 tackles (37 solo), 19.5 for loss (12.5 sacks), 5 forced fumbles, 1 interception, 2 passes defensed
Game tape watched: Arkansas (Sept. 26, 2015), Ole Miss (Oct. 24, 2015), LSU (Nov. 28, 2015)
What I liked: He has ideal size, length and motor for the position. As a pass rusher, he can win with speed, wrap around the edge and flatten to the quarterback. He can convert speed to power and he also possesses a nifty inside spin move. When he slides down to rush against guards, he almost always wins the battle. They are no match for his quickness and he generates a lot of pressure. He is constantly double teamed or chip-blocked, and he doesn't get frustrated or allow his effort to diminish. He always plays snap to whistle. Pass rushers are judged on production and Garrett has produced 22.5 sacks in his two seasons with the Aggies. I was pleasantly surprised with how well he plays against the run. He keeps his pads low to the ground and easily holds the point of attack. He shoots his hands and uses his length to stack blockers consistently. He is outstanding when he's allowed to shoot gaps and attack. He is also productive on the back side because of his motor and speed to close. He is also very adept at playing against cut blocks. He is very rarely on the ground.
Where he needs to improve: Garrett is a complete player. However, he could do a better job of disengaging when he fails to win at the beginning of a play. He doesn't give any ground but he can do a better job of quickly shedding blocks and freeing himself up to pursue the ball. He's shown the ability to do this, but he could be more consistent in this area.
Biggest takeaway: Garrett is a prototype player. He has everything you'd want in a defensive end. He isn't quite as twitched up as Jadeveon Clowney or Khalil Mack, but he is very polished as a pass rusher and he has the ability to dominate on all three downs. I spoke to one personnel executive who compared him to Julius Peppers. I wouldn't put him in that class just yet, but he's still very young and his best football is ahead of him.
I can't wait to see him play: Week 1 of the college football season is loaded with intriguing matchups. One game I'm really looking forward to is the UCLA-Texas A&M contest. Garrett is the premier edge rusher in college football and he'll be squaring off against one of the best offensive tackles in the country, UCLA's Connor McDermott. This will be a good test for Garrett, and I think his quickness and power will allow him to harass QB Josh Rosen for four quarters.