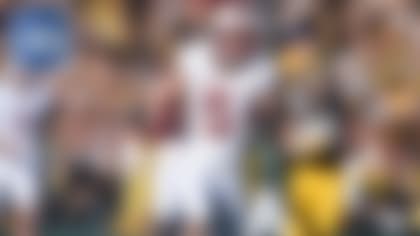 Editor's note: NFL Media analyst and former NFL scout Daniel Jeremiah takes a "first look" at college football's top players for 2016. This is the fourth in a series of scouting reports that will run throughout the offseason.
Stanford RB Christian McCaffrey returns to the Cardinal after producing one of the most impressive seasons in college football history. He put up monster numbers across the board and helped lead Stanford to a Rose Bowl victory. He was an easy player to notice when I studied other Stanford players leading up to the 2016 NFL Draft. His big-play ability jumped off the tape. I was excited to get a chance to really dig in to his tape. Here's my scouting report on him after watching three of his games from the 2015 season.
Christian McCaffrey, junior RB, Stanford
Height, weight: 6-foot-2, 202 pounds (school measurements)
2015 statistics: 337 carries for 2,019 yards and 8 TDs; 45 catches for 645 yards and 5 TDs; 37 kickoff returns for 1,070 yards, TD; 15 punt returns for 130 yards, TD.
Game tape watched: Oregon (Nov. 14, 2015), Notre Dame (Nov. 28, 2015), Iowa (2016 Rose Bowl, Jan. 1)
What I liked: McCaffrey has a unique skill set. He can make an impact as a runner, receiver and returner. As a runner, he has excellent vision and the patience to let things develop. Once he finds a hole, he is quick through the line of scrimmage and he is very elusive in the second and third levels. He isn't a lower-the-shoulder power back, but he does pull through a lot of tackles and he has a violent stiff arm. McCaffrey is at his best on perimeter runs. He has enough speed to turn the corner, and he's electric in space. He is an outstanding weapon in the passing game. Stanford will move him around, lining him up in the slot or even split out wide on occasion. He is a creative route runner who understands how to set up defenders and create separation (see Washington route/reception). He is talented enough to play wide receiver at both the collegiate and professional level. As a returner, he's decisive and possesses the speed to take it the distance.
Where he needs to improve: Pass protection is a major area of concern with McCaffrey. He is a willing blocker, but his technique needs improvement. He ducks his head and misses too often. He needs to be more effective as a cut blocker. Even when he does square up linebackers, he lacks the base to anchor down and stop their charge. He gives one good pop, but he struggles to sustain. I do love the fact that he's assignment aware. His eyes are fixed on the correct assignment/target.
Biggest takeaway: McCaffrey is an outstanding talent. I don't think he has the body type to be a 25-carry-a-game back at the next level, but he can make a major impact because of his versatility. He can carry the ball 12-15 times, catch 4-5 balls and also contribute in the return game. It's tough to find a current NFL comparison for him. However, I do see a lot of similarities to the Atlanta Falcons' Devonta Freeman when he was coming out of Florida State. They don't have the same physique, but their running styles and diverse skill sets are very similar.
I can't wait to see him play: Stanford and Oregon have dominated the Pac-12 North since the conference split into two divisions several years ago. I always enjoy that matchup every fall. However, there is a lot of buzz building around the University of Washington program. Head coach Chris Petersen quickly has built a nice foundation in Seattle, and the Huskies are positioned to compete for a conference title this fall. The Huskies have a fast, aggressive defense. Of all of Stanford's opponents this season, Washington is probably best equipped to slow down McCaffrey. The game will take place in prime time and on national television on Friday, Sept. 30. I can't wait for that game.