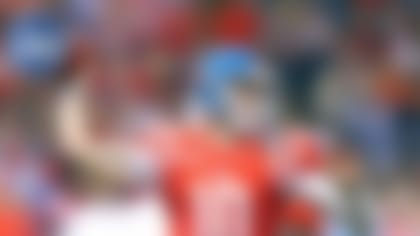 Editor's note: NFL Media analyst and former NFL scout Daniel Jeremiah takes a "first look" at college football's top players for 2016. This is the ninth in a series of scouting reports that will run throughout the offseason.
Chad Kelly, the nephew of Pro Football Hall of Famer Jim Kelly, first caught my eye when I watched Ole Miss upset Alabama (for the second year in a row) last fall. Kelly accounted for four scores in that game and made a couple "wow" throws. After some turbulent times early in his college career, he's widely regarded as the top returning senior quarterback in the country. Here are my thoughts on his game after watching his tape.
Chad Kelly, senior QB, Ole Miss
Height, weight: 6-foot-2, 224 pounds (school measurements)
2015 statistics: 298-of-458 (65.1 percent) for 4,042 yards, 31 touchdowns and 13 interceptions.
Game tape watched: Florida (Oct. 3, 2015), Texas A&M (Oct. 24, 2015), LSU (Nov. 21, 2015)
What I liked: Kelly has ideal size, arm strength and toughness. He is a big, sturdy pocket passer with a huge arm. He generates a lot of torque from his lower half and has the velocity on his throws to fit balls into very tight windows down the field. He flashes the ability to make "wow" throws deep down the field (see deep ball vs. Texas A&M). Kelly shows tremendous courage to stay in the pocket until the last second and absorb big hits from defenders. He is also extremely competitive. He is used on designed quarterback runs and he consistently lowers his shoulder to fight for extra yards. The effort he showed in making a tackle after throwing an interception against Florida last season was a play that will endear him to his teammates.
Where he needs to improve: There are a lot of areas where Kelly can improve. I love his aggressiveness, but he forces too many balls into highly populated areas. He also has a bad habit of speeding up his process and missing easy layups underneath. He doesn't like to give up on a play, which can lead to some unnecessary sacks and ill-advised decisions. His deep-ball accuracy is a work in progress. He had some beautiful connections in the games I watched, but also overthrew several passes.
Biggest takeaway: Kelly has an unquenchable thirst for the big play. He loves to attack down the field and that leads to big plays as well as turnovers. I'd love to see him dial it back just a little bit and show more concern for the football. I love his competitiveness and grit, but there's a lot of growth that needs to take place in his decision making. He has a lot of similarities to Jay Cutler: big arm, aggressive nature, above-average athlete. However, I thought Cutler showed more poise under pressure when he was at Vanderbilt.
I can't wait to see him play ... Florida State on Sept. 5. The Rebels have several marquee matchups on their schedule, but the first game of the year is the one I'm most excited to see. The Seminoles are loaded with talent and their defense will provide a stiff test for Kelly and the Ole Miss offense. There are college coaches who believe FSU safety Derwin James might be the best defensive player in the country. This is a game that will be well attended by NFL scouts and it will be a must-watch game in Kelly's NFL evaluation.