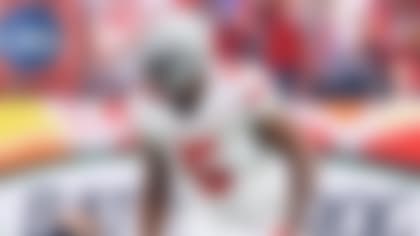 Editor's note: NFL Media analyst and former NFL scout Daniel Jeremiah takes a "first look" at college football's top players for 2016. This is the 14th in a series of scouting reports that will run throughout the offseason.
Ohio State lost a lot of talent to the 2016 NFL Draft, but the Buckeyes return several players that are capable of leading the team to another championship. The leader of the defense will likely be linebacker Raekwon McMillan. I've recently had the opportunity to study three of his games from last fall. Here's my scouting report.
Raekwon McMillan, junior linebacker, Ohio State
Height, weight: 6-foot-2, 240 pounds (school measurements)
2015 statistics: 119 tackles (57 solo), 4 for losses (1.5 sacks). Four pass breakups, 5 QB hurries.
Game tape watched: Virginia Tech (Sept. 7, 2015), Michigan (Nov. 28, 2015), Notre Dame (Fiesta Bowl, Jan. 1, 2016)
What I liked: McMillan has ideal size and physicality for the inside-linebacker position. He excels inside the tackle box. He is quick to key/diagnose, and he has the ability to take on guards and lead blockers. He is a thumping tackler with excellent stopping power. His goal-line tackle against Virginia Tech was a great example of how he runs his feet on contact and has knock-back strength. He is very comfortable as a zone dropper against the pass, and he uses his vision/awareness to clog throwing lanes. He uses his size and physicality to compete against tight ends underneath in man coverage. His production is outstanding (he led the Buckeyes in tackles last fall).
Where he needs to improve: McMillan has some issues playing in space. He lacks ideal short-area quickness, and he misses some tackles in space because of it. He also needs to improve as a blitzer. His timing is fine, but he lacks an explosive closing burst and he needs to do a better job of finishing when he's free to the quarterback.
Biggest takeaway: There's a lot to like about McMillan. I love his size, instincts and physicality. He isn't as twitched up as former teammate Darron Lee (a first-round draft pick of the New York Jets), but he has the tools to be a dominant run defender at inside linebacker. He reminds me a little of former Alabama LB Reggie Ragland, a second-round draft pick of the Buffalo Bills. Both guys were the quarterbacks of dominant college defenses.
I can't wait to see him play ... Michigan on Nov. 26. Jim Harbaugh has a very talented roster returning this fall, while Ohio State must replace a plethora of talent that moved on to the NFL. Michigan TE Jake Butt is one of the top players at his position in the country, and the Michigan rushing attack should be outstanding, providing a challenge for McMillan and the OSU defense. McMillan had a great game against the Wolverines last fall, and I'm anxious to see if he can duplicate that performance in 2016.